Pageant Schedule

#Miss Universe

Fox Network

7 eastern, pacific

Sunday December 12

From Eilat, Israel



#MissAmerica

December 16 on Peacock app

8 eastern , 5 pacific

From Uncasville, Connecticut

Miss USA Nov. 29 on FYI, Hulu

Miss Universe December 12 on Fox

Miss America December 16 on Peacock app

*subject to local schedule! Check listing in your area!

******==


Congratulations Elle Smith of Kentucky, #MissUSA Miss USA 2021! And to our new National Directors and dear friends Crystle Stewart and Max Sebrechts on a wonderful new style of show! Truly #PageantryReimagined! Photo credit:Miss Brand Co/Miss USA Organization Cant wait to see where you go from here! Xoxo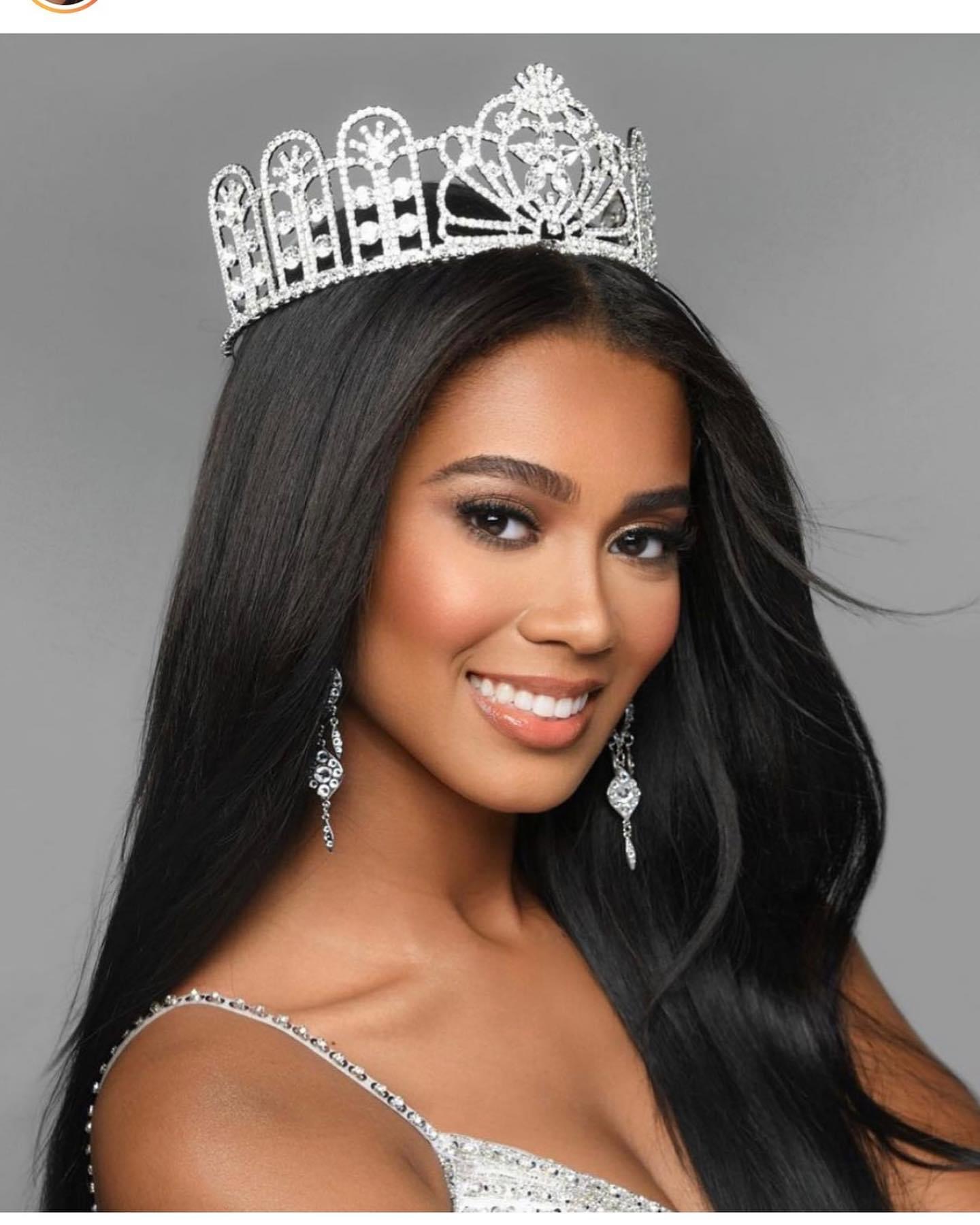 Official Miss USA organization photo
Photo credit: Miss Brand Co. Congratulations Breanna Myles Of Florida
Miss Teen USA 2021!

Miss USA will be crowned on Monday (November 29) 8 eastern on FYI Television Network and Hulu live! @MissTeenUSA @MissUSA @FYI @hulu #PageantryReimagined
MISS TEEN USA 2021 is Breanna Myles of FLORIDA! Congratulations on a well deserved win! Monday night we crown @MissUSA 2021! Watch on #fyi @FYI or @hulu live 8 pm eastern
Click to see Breannas Crowning!
Israel? Interesting? Watch Video here for details!
Rumor has it that Steve Harvey returns as host for FOX!
#MissUniverse 70th Anniversary in Israel in December 2021! #Israel @MissUniverse
THE 70th MISS UNIVERSE COMPETITION IS IN watch here via @YouTube Israel? Interesting? Watch Video here for details!
Rumor has it that Steve Harvey returns as host for FOX!
#MissUniverse 70th Anniversary in Israel in December 2021! #Israel @MissUniverse Miss USA 2021 - Live Monday, November 29 at 8/7c/5 p@on #FYI channel https://youtu.be/v7riTI2aNrY via @YouTube #missusa @MissUSA @FYI Some of you may enjoy these old commercials! And Rumor has it Miss Universe from Israel December 12 , 7 pm on fox!
Congratulations Andrea Meza of Mexico! Winner of the 69 th Miss Universe competition!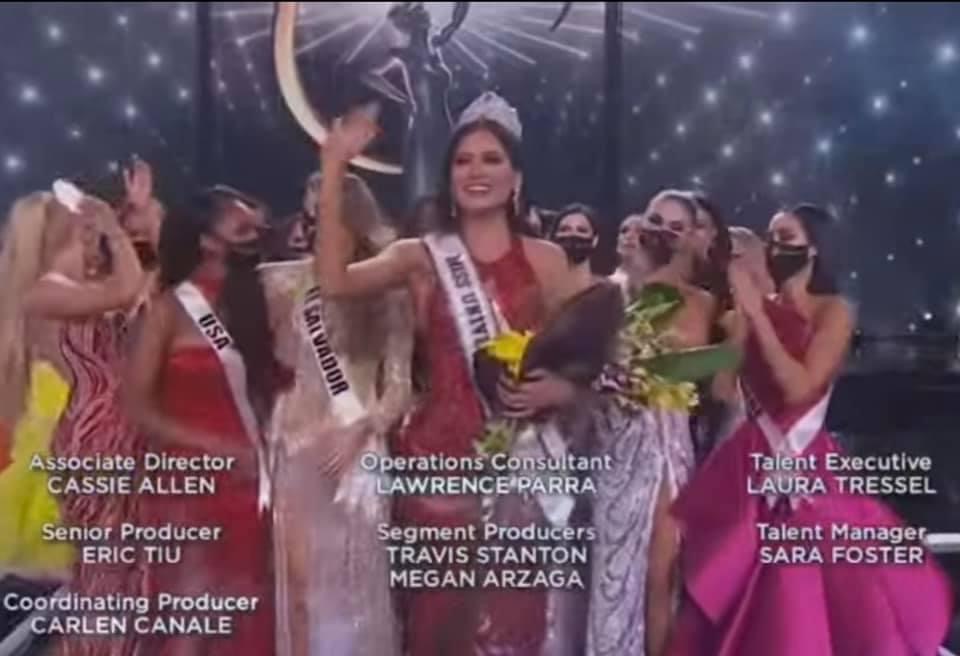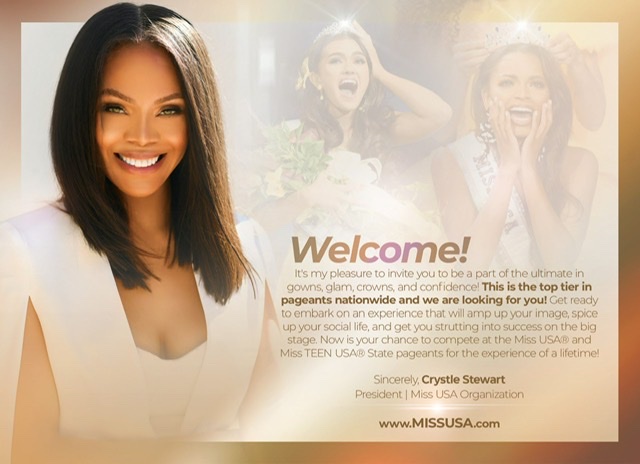 Exclusive: New leadership for Miss USA and Miss Teen USA announced https://www.goodmorningamerica.com/culture/story/exclusive-crystle-stewart-takes-leadership-role-miss-usa-74958210
#MissUSA 2021 will air on Hulu (FYI channel) Monday November 29
From RiverSpirit casino in Tulsa, OKLAHOMA!
@TulsasCasino @FYI @hulu @missusa
#BrandNew #missusa #missteenusa #pagentryreimagined websites @MissUSA www.missusa.com
@MissTeenUSA www.missteenusa.com
Info and tickets now available !
Kudos Crystle Stewart Max Sebrechts
Miss USA: November 29, 2021

Miss Teen USA: November 27, 2021

Both at River Spirit
Casino
Tulsa, Oklahoma
New Director Crystle Stewart looks to future of Miss USA
100th Miss America
Announcing
Thursday December 16 Mohegan Sun in CT
#RIP Leanza Cornett #MissAmerica #AIDS activist https://www.washingtonpost.com/local/obituaries/leanza-cornett-miss-america-who-was-crusading-aids-activist-dies-at-49/2020/10/29/c464165c-198b-11eb-befb-8864259bd2d8_story.html?fbclid=IwAR3l6H31HbbnHfWkDJr-OIRvZcyYivoLWGNqIyIXqnUqobvCxF48AEdSScY
So sad to learn of the passing of Miss America 1971, Phyllis George, who I had the pleasure of meeting and talking with many times, she was the 50th Anniversary Miss America, the first female network #NFL sportscaster, First Lady of Kentucky, entrepreneur, and most of all a kind and wonderful woman ! The epitome of #MissAmerica...there she is...indeed! #RIPPhyllis https://www.cnn.com/2020/05/16/media/phyllis-george-death/index.html
Miss America 1998 Kate Shindle re-elected AEA President
I Will Not Apologize For Being A Pageant Girl via @twitter click here to read!
And As I wrote for Shandi and Susie blog: What Is A Pageant Girl? Read it here!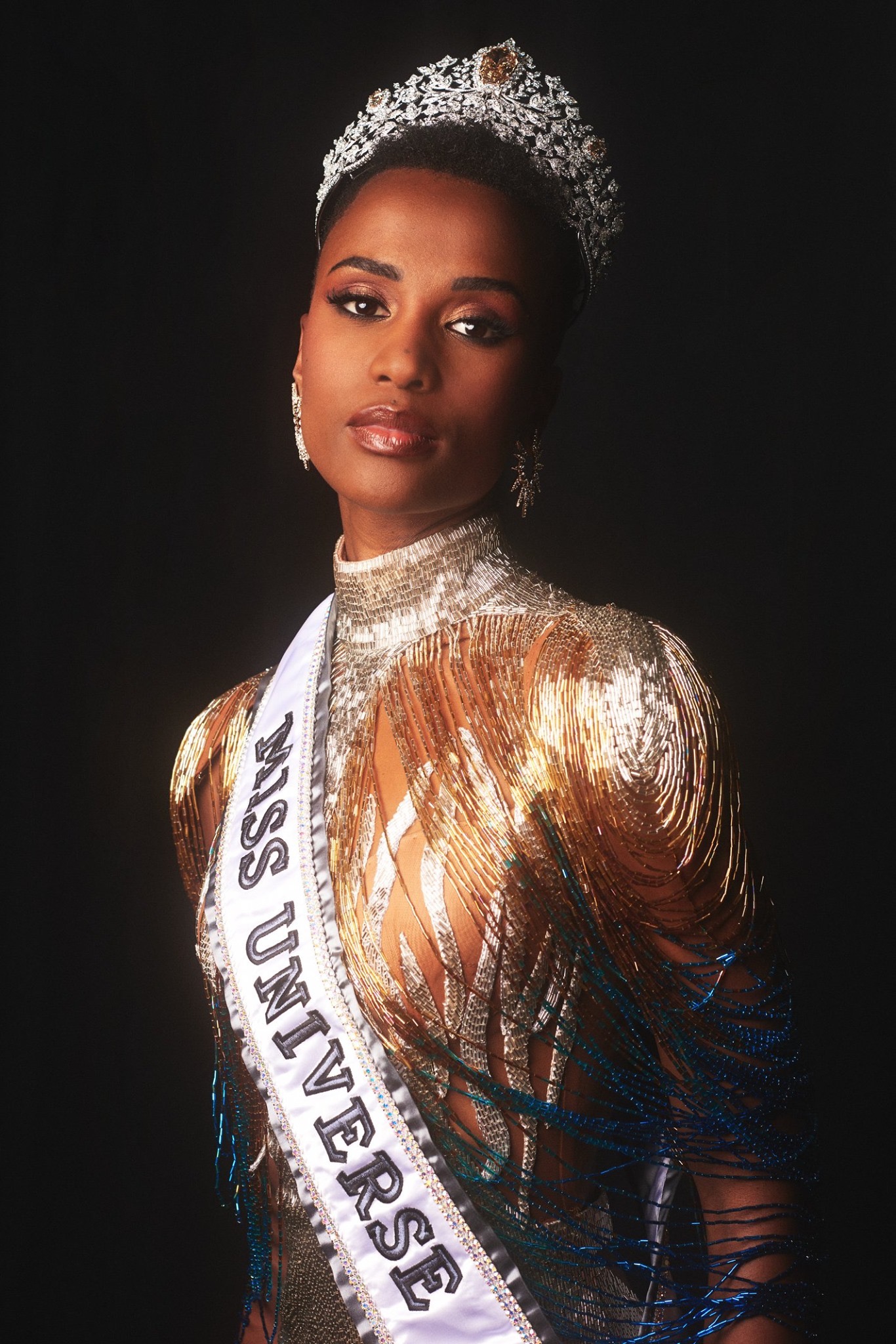 Zozibini Tunzi, Miss Universe 2019 of South Africa

official MUO photo by Benjamin Askinas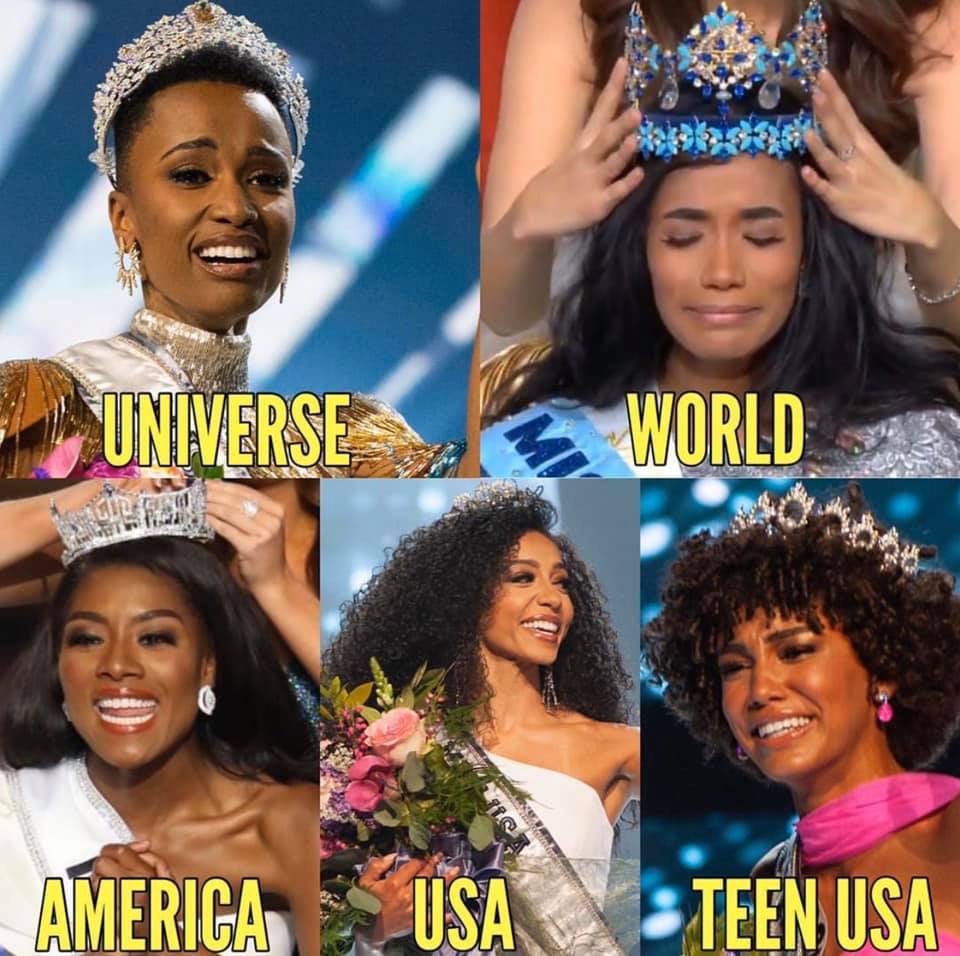 width=400 height =480>
2019;Titleholders fot Miss Universe, Miss World, Miss USA, Miss Teen USA And Miss America
#ClassOf2019 #BlackGirlMagicReigns #WellDeserved #MissUniverse #MissUSA #MissTeenUSA #MissAmerica #History https://www.cnn.com/2019/05/04/entertainment/miss-usa-miss-teen-usa-miss-america-trnd/index.html
Apparently fashion is back in fashion at Miss America!
Catriona Gray, Miss Universe 2018


from Philippines
The new #MissUniverse Unity Crown for MissUniverse2019 click here to view! preliminary & National Costume event Go to watch.missuniverse.com tonight Finals Sunday December 8 7et/pt &6 Central if you cant get there as I cant you can watch on @foxtv or #Telemundo @MissUniverse #MissUniverse #fox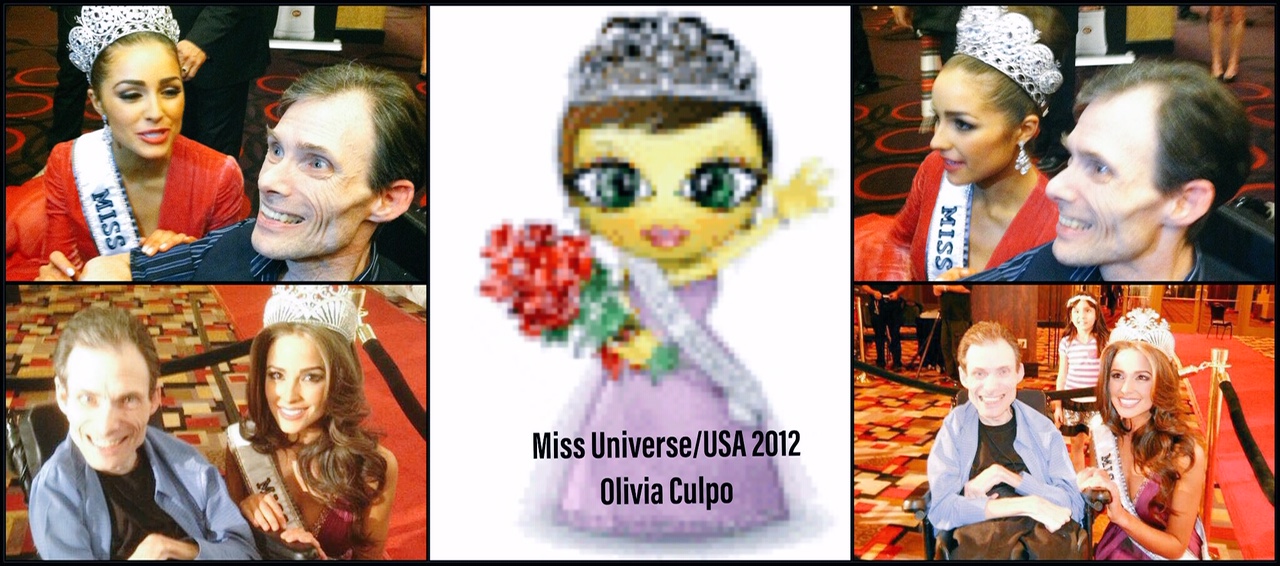 #DisabledNOTUnable
Remember, disabled does Not mean unable!
Re post: Apparently many of my school teachers were wrong, #MissUniverse history is an important part of your education! Not only has it changed my life but it won some smart quiz show contestants a lot of money! PS earlier today! Watching #NCIS, Tony's bucket list #8...Date a Bond Girl OR Miss Universe! Good Luck, Di Nozzo! jhbonline.net/pageants it is so relevant! Click here!
Had so much fun In #RenoTahoe! But so tired. I'll have more soon!

I love our new titleholders Cheslie Kryst, Miss USA, and Kaleigh Garris, Miss. Teen USA

....I'll have More Soon!
GREAT WEEK FOR MISS USA CONTESTANTS
October 8, 2019
PAST AND PRESENT! Congratulations!


‪Wow! More #MissUSA news! These women werk it!
‪This week #MissUSA @CheslieKryst 2019 joined @extratv‬
‪2007 @RachelSmithTV joins @etnow ‬
‪Runner up @meagantandy premiered @CWBatwoman ‬
‪2009 runner up @ALICiamBLANCO starts hosting for @Suns ‬
‪Wow #pageants #pride #confidentlybeautiful @MissUSA ‬MISS ARIZONA USAŽ Miss California USA Miss USA
Miss USA & Teen USA 2019 #RenoTahoe Page now here!
Rare combined interview:
Miss USA, Miss Teen USA and Miss America 2019
Miss USA, Miss Teen USA, and Miss America on making history via @YouTube from CBS This Morning here
‪Pageant history. Yes but Everyone is beautiful! These women deserved their titles. And that is why they won! No other reason!
watch this!

‪Words from Academy Award winner and Miss Ohio USA ‬
‪1987 and First Runner up to #MissUSA Halle Berry!‬

‪ click here....and @halleberry love you! Thanks for honoring your past as well as the present!‬
Congrats Catriona Grey
#MissUniverse 2018
Congratulations #Philippines
‪Biggest moments you missed at Miss Universe 2018: Who won, near falls and forgotten words via @shreveporttimes‬
‪
Congratulations @catrionaelisa Catriona Gray #Philippines ‬ ‪MISS UNIVERSE 2018 CATRIONA GRAY FULL CORONATION NIGHT PERFORMANCE! via @YouTube‬ here

‪Miss Universe 2018 - Press Conference ‬
‪With Catriona Gray ‬
‪‬
‪Here via @YouTube #Philippines #missuniverse ‬
Catriona Gray's First Official Photoshoot as Miss Universe 2018 via @YouTube
Catriona Gray in New York https://youtu.be/F27K6_dl4qQ via @YouTube #missuniverse #missusa #missteenusa
Some of my favorite
Miss Universe Memories
RIP Chelsi Smith
Miss Universe 1995
Yes, she was my dear friend! Always supportive of everything I did...The tributes just keep coming.... Chelsi Smith, Houston-area native who won Miss Universe, dies https://abc13.com/4187700/ via @ABC13Houston as they should! I'm still in shock. Cancer takes so many too young... We will miss you
Chelsi Smith



Miss Universe 1995
Miss USA 1995
Miss Texas USA 1995
More here More here
My friend Chelsi Smith passed away a a few weeks ago. Recently I understand they held a memorial service. I could not attend, but it had taken me until now to come close to finding the right words...

In memory of my friend, Chelsi Smith:
Miss Texas USA
Miss USA
Miss Universe 1995

I will always miss my dear friend Chelsi Smith. She was someone I never thought I'd have the opportunity to meet, although I admired her since watching her crownings on television in 1995.
But once we met we found we had more in common than our mutual love of pageants.
We also enjoyed the Sugarbaker sisters of the sitcom "Designing Women," in fact Chelsi often privately referred to me as "John (Sugar-baker)!"

Also, Chelsi knew of my love of figure skating, and really took an interest, sending me photos, videos and old movie clips she found, and asked questions ( good questions) so she could learn more about the things she would send!

Chelsi, like her 1995, MUO sisters, Keylee and Shanna, had a wonderful way of taking a genuine interest in others, and helped to make dreams come true for those they met. She exemplified what it truly means to be Miss USA and/or Miss Universe in the best possible way.

Knowing Chelsi was a gift I was never able to payback, but I'll do my best to pay forward, as she would want! I love you, Chelsi! *****

In the Winter 2019 issue of Pageantry Magazine with Faith Ford ( who plays fictional former Miss America, Corky Sherwood) On Murphy Brown.
photo courtesy Faith Ford & Campion Murphy.
‪Wow! I don't get #GretcheCarlson leadership style...maybe Miss America 3.0 or back to 1.0 but 2.0 is NOT the #MissAmerica I love and I LOVE #MissAmerica! ❤️❤️�� How can an Organization who chooses to deny freedom represent America?‬
So Sorry for Cara Mund! #standwithCara #Hanginthere #MissAmerica Speaking out on current leadership and Gretchen Carlson READ MORE ABOUT IT HERE
Miss America is scrapping its swimsuit competition, will no longer judge based on physical appearance - ABC News - https://gma.abc/2xJ325M via @ABC #missamerica So whats to watch? Bye Miss America! Ill love all my former titleholders friends... but.... Ill remember you fondly... kind of ironic its on the same network as the bachelor/bachelorette? Whats wrong with evening gown! Dont get it!
My Miss America Memories....
Some of them anyway!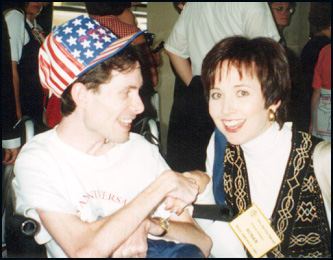 ...with Susan Powell, Miss America 1981 (Oklahoma)
‪Are You The Next Miss USA?

via @YouTube if there was ever a great time to enter #MissUSA #MissTeenUSA #MissUniverse this is it! Watch video to see why! @MissUSA @MissUniverse #empowerment #Respect #inspire‬
‪Jeopardy! 2018 - Jeopardy! 24 January 2018 via @YouTube‬
‪Yesterday's Miss Nomers category ! Fast forward it's about #pageant #MissUniverse #missamerica etc!‬
‪And my teachers said I was wasting my time...‬
#MissUniverse #MissUSA #MissTeenUSA have been owned by IMG/WME since 2015!
Thank you!,,,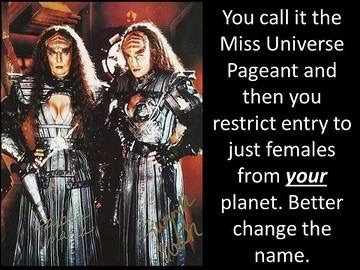 MUO titleholders
At 2018 Competition
Now that #MissUSA is crowned #MissAmerica 2019 set to air September 9 ! Yes there is a difference!
details via @PageantExperts
Dayana Mendoza (Venezuela)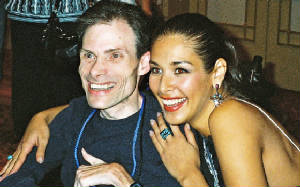 Miss Universe 2008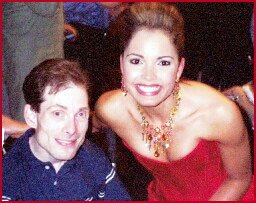 ...With Miss USA 2003, Susie Castillo.
Miss USA 2017, Miss Universe 2016
And Miss Teen USA 2017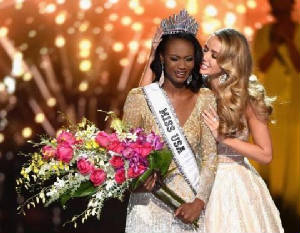 Here is Iris on Good Morning America too!
undefined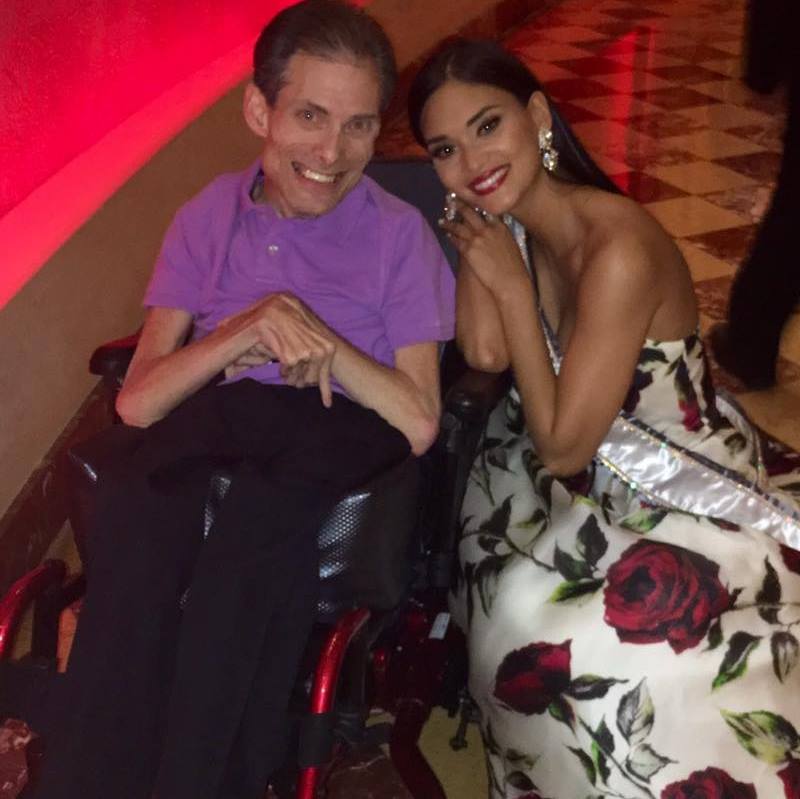 undefined
Miss Universe, USA, TeenUSA NOW OWNED BY WME/IMG
NO MORE TRUMP...
with Jordyn Kogler
Photo courtesy Crowned One Prod.
March 30, 2015:
Wow! What a night THANK YOU SO MUCH Stevi McShane​ Liz Fogg​ and everyone at Crowned One Productions Inc. (Pageants)​ for your friendship, kindness, an amazing seat and most especially for the new award named in my honor
"The John Baker Spirit Award" in pageantry presented to Jordyn Kogler , Miss Teen California American Beauty 2014! It is overwhelming for me... and Jordyn is an extremely deserving first recipient! Congrats to all the wonderful winners last night! Best of luck at Nationals...especially to my dear friend Alexa Jones​ , our new Miss California U.S. International​ 2015! So happy for you! Wonderful to see Maureen Atwell​ and Samantha Hart​ too... Hope to see everyone again SOON! XOXO, John
MORE TO COME SOON!
*************************************************************************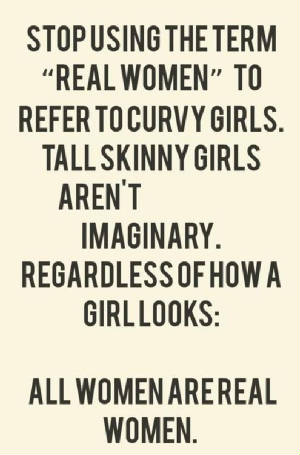 Great Advice via Alyssa Campanella, Miss USA 2011
#RealityCheck In fact, I believe all people are "REAL PEOPLE!" There has to be better terminology! Anyone?
#RIPJoanRivers #JoanRivers #MissUSA quote from 2010:
"I just hosted the Miss USA Pageant and, let me tell you, beautiful gets you everywhere. The New York Times had an article maybe six months ago: Babies respond to pretty faces. So stop telling everyone it's OK not to be pretty! If you can fix it, fix it!" she told Entertainment Weekly in 2010. "If it makes you happier. I love to look in the mirror and say, 'For 77, you look good.' That's all. I don't care what anyone says. Not bad for 77." I attended that pageant, didn't meet her wish I had... Refreshing... IMHO, the world can be too politically correct. Life is more beautiful with a sense of humor and what adults choose to do with their bodies, is their business... Here's to Joan... You'll be missed! :)
"Those who bring together, never come apart!"
-Me (John H. Baker)


PAGEANTS ON SITCOMS
(Because the ability to laugh at ourselves is beautiful!:)
JHBonline.net shared Murphy Brown' s photo

I love it when my worlds collide! In the pilot for "Murphy Brown" Corky Sherwood (Faith Ford) explains to Jim Dial (Charles Kimbrough) why she was elevated from 1st Runner-up to " #MissAmerica"




For more visit http://jhbonline.net/tv/id2.html



"It's always very sad when Miss. America falls from grace. I mean when she said that she loved animals, no one took her literally."
#Pageants #figureskating love this ! #missusa

2016 WORLD SILVER MEDALPST

ASHLEY WAGNER

AND 2O16 MISS USA

DESHAUNA BARBER

TWO WONDERFUL WOMEN!
MISS USA 2011 ALYSSA CAMPANELLA MARRIES "REIGN" TORRANCE COOMBS! CONGRATS MY FRIENDS!



Working on my new 2015 #MissUniverse webpage ! Still a work in progress, but so far

http://www.jhbonline.net/pageants/id54.html

Thank you Paula Shugart Rachel Frimer​ Esther Swan​ Shawn McClain​ Olivia Giudice​ Nia Sanchez​ Linda Rondinella-Osgood​ Larry Parra​ ​ Kristen Bradford​ Pam Wilson​ and everyone I couldn't tag... Love you all! <3 John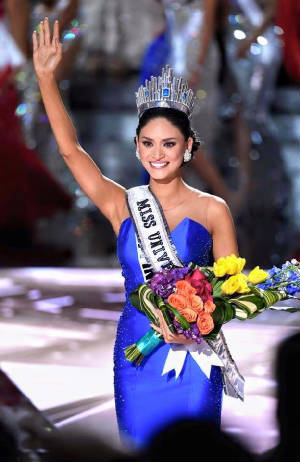 #MissUniverse #Fox #PHVegas Dec 20 FOX @FoxTV #MissUniverso



So proud of my dear friend
Caroline Frolic Absalom, Mrs. Hawaii
2nd RU at Mrs. America
Congrats also to 1st RU from Texas and the new
titleholder from Alabama!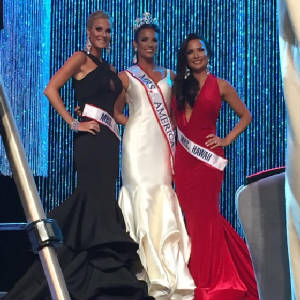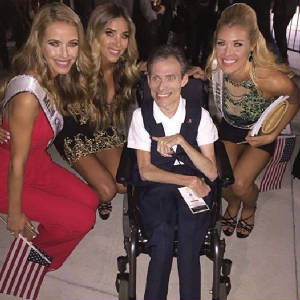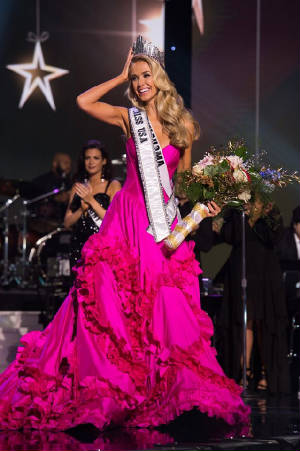 MUO photo
Pageant knowledge can be valuable... Despite what many of my grade school teachers said!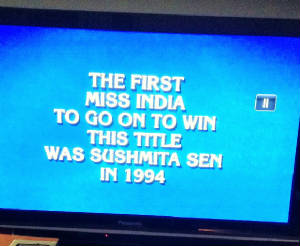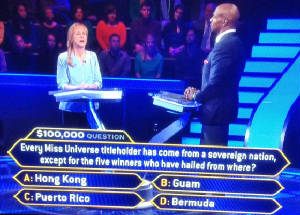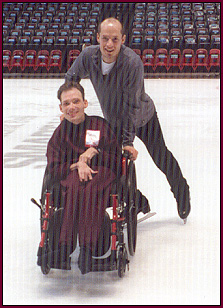 Just got a lovely surprise from #MissUSA Nia Sanchez ! A photo of us from Miss Nevada USA 2013... the year BEFORE she competed for & won the title... didn't know it existed! I was judging the TEEN event! Can't wait to cheer her on at #MissUniverse! Love you, Nia! <3
Miss USA 2014
Nia Sanchez (Nevada)
What is a pageant girl? Guest blogger @jhbonline explains... http://t.co/c8MBkvTrIB

— Pageantology(@Pageantology101) September 3, 2014
Kristin Chenoweth at Miss OK '91

http://youtu.be/1GYSVO2WFjk

#TBT #Pageants #BROADWAY Emmy Awards Winner Tony Awards Winner #MissAmerica
K. Lee Graham (SC)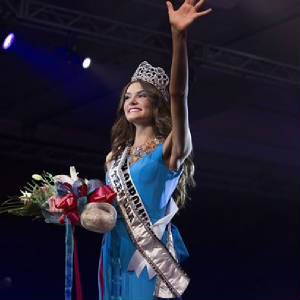 Miss Teen USA 2014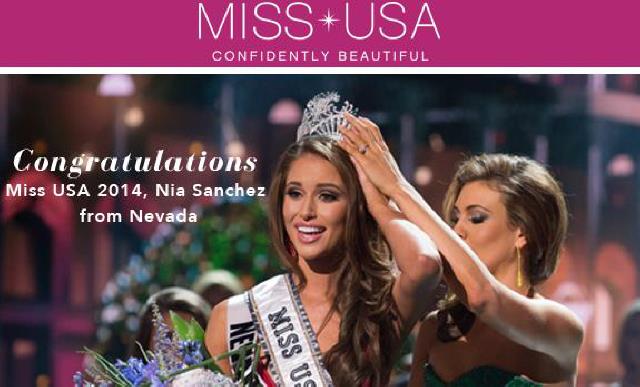 GUESS IT WORKED!!!!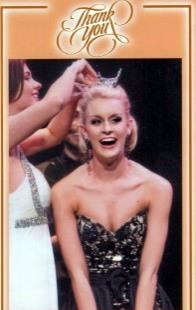 Jordan Blais Krinke
‪Jordan Krinke, former Miss Teen California, named Miss Placentia More Here...

‪Look what I found! Just wonderful memories! #MissAmerica should have been #MissCalifornia should have been but #MissNationalSweetheart #MissCaOT‬, Four MAO local titles, and 3rd RU Miss California 2012!
I was a mock interview judge at this event! Will always love Jordan!
NEW! Photos from Miss California USA Photos courtesy Tami Farrell & Alyssa Campanella! Thanks! XO, John
Miss USA 2011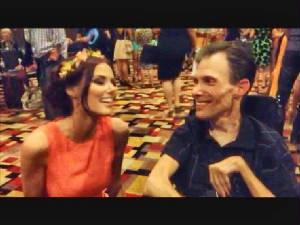 Alyssa Campanella
Miss Teen USA 2012 contestants enjoy Miss USA 2012 by thepageantguy.com
Visit Our New Miss Universe Titleholders Page Here!
NEW PHOTOS ADDED TO MY MISS NEVADA-USA/TEEN USA 2013 PAGE! on 7-22-13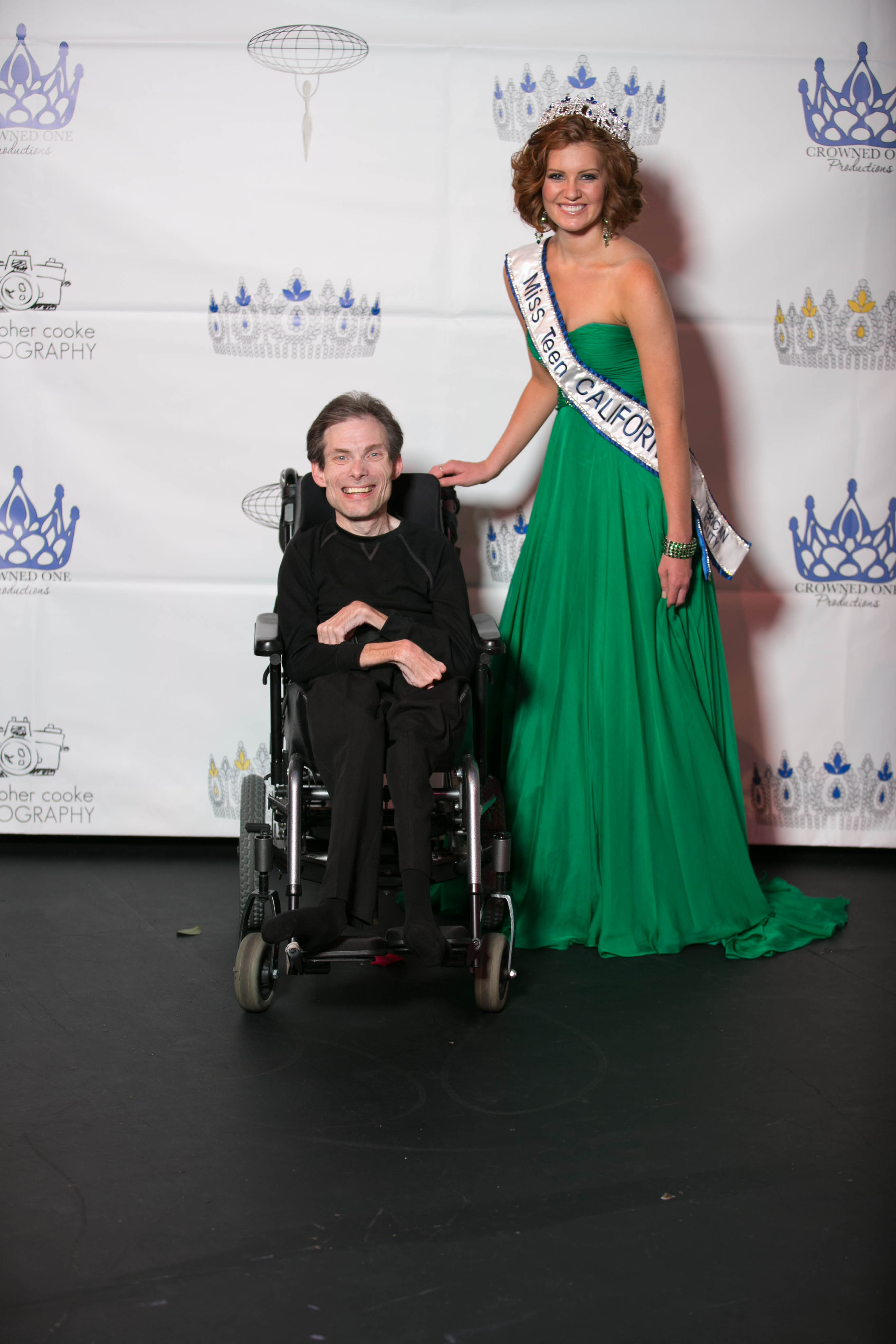 New Crowned One Prod. Pageants 2013 page!
Find JHBonline.net on these Social Networking Websites:

Facebook:

Twitter:

YouTube:

*************************************************************
Crystle Stewart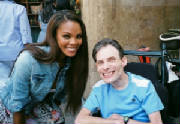 Miss USA 2008
Miss CALIFORNIA-USA PSA "I BELIEVE"
Top 5
"When the hand is open to give, it is open to receive..."
Thanks Everyone...

jhbonline.net
An Entertainment Website: Proudly celebrating 10 years on the internet: Dec. 8, 1998-December 8, 2008! Thank you all for your support!!!

KUDOS FROM THE PAGEANT WORLD:
My sincere gratitude to all of you!!!