On the website
At the hotel:
(pre-telecast)

...With Marshele Lee, Miss New Hampshire Teen-USA 2003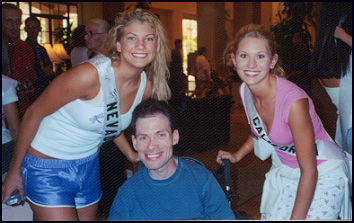 ...and the representatives from Nevada, Ashley Phelps; and California, Shannon Byrne!

...and post-show with the delegate from Illinois, Tiffiney Mc Cormick!
***
Thanks & Good Luck, Tami!
TAMI'S CROWNING MOMENT...

FROM YOUTUBE.COM
Best wishes to Oregon's Tami Farrell who proved she earned the crown, and the "Miss Congeniality" award while helping us out of the hotel with our stuff...if only we could have located our camera, there'd be a more casual but no less adorable photo here... Thanks again, Tami! Have an awesome year!
More with Tami (& ME) here!
Also visit: the
Official Site of Tami Farrell, Miss Teen-USA 2003 NEW!!!!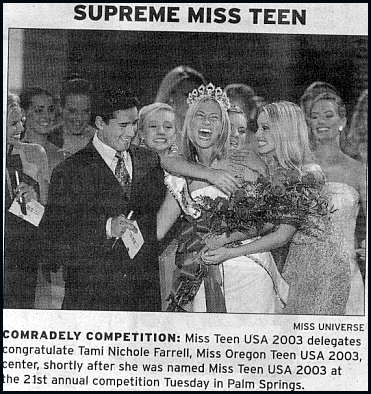 We thank you for the
hits we have received here!
All material

Copyright 2001-03 by John H. Baker, unless otherwise indicated.
MISS TEEN USA 2003
Palm Springs, CA
August 12, 2003
THE MAIN EVENT

At the convention center...

My seatmates, Alicia Cabrera, Miss Kansas-USA 2003 & Jessica Perea, Miss Nebraska-USA 2003

A reunion of MISS USA 2003 delagates!
Jessica Perea (Nebraska); Alicia Michioka (Hawaii); Elisa Schleef (Michigan); Nafeesa De Florias (Arizona); Jennifer Ripley(Vermont); and Alicia Cabrera (Kansas).

The stage is set!
THE CORONATION BALL

...where we shared our table with the families of Jasmine Jorgensen, Miss Washington-Teen USA 2003 (Top ten semi-finalist)...

...and Marshele Lee,Miss New Hampshire-Teen USA 2003!

COPYRIGHT 2003; JHB ONLINE UNLESS OTHERWISE INDICATED

To submit your pageant related web page or site for inclusion on this list PLEASE CLICK HERE
to e-mail the Webmaster. Include the name of the page/site, complete URL (web address), contact person's name, a some site background.
The JHB Website reserves the right to refuse or delete any submission at any time, and for any reason without notice. Pageants for entrants under the age of 13 need not apply. ** Objections to a specific linked entity may be sent via e-mail as above, and will be investigated.
NOTE:The JHB WEBSITE bears no responsibility for the contents of any site or newsletter linked hereon. Nor is inclusion on this list an endorsement of an pageant program. Links provided as a courtesy only.
RETURN TO JHB ONLINE: PAGEANTRY