jhbonline.net/tv
Unofficial Rick Hearst Website
GO DIRECTLY TO JHBONLINE'S RICK HEARST HOMEPAGE
http://rickhearst.jhbonline.net

************
"ALL MY CHILDREN" FAN CLUB INFO
Hello GH Fan Club Members!
I am very happy to report that I have been asked to assume the duties of President of the Official All My Children Fan Club. I know that many in our Official General Hospital Fan Club membership are also All My Children fans, so I am sure you know how exciting it can be for us to bring the same standards of practice and attention to All My Children as the General Hospital Fan Club Members have experienced for years.
This new development in no way affects the Official General Hospital Fan Club in terms of membership benefits. I will remain as President of the Official General Hospital Fan Club and you will see no change in terms of your amenities as a member. You have probably already noticed that the Official General Hospital Fan Club website has received a makeover. Simultaneously, an Official All My Children Fan Club website has been created and is online at www.amcfans.com.
We are already establishing an online and offline mailing list and emailing network to keep AMC fans informed of important details and updates. Be sure and sign up for the mailing list to stay apprised of all of the new and exciting info that will be coming down the line as this fan club takes off! Please note that I will NOT be using the General Hospital mailing list for All My Children information beyond this notification.
I am sure that one of the first questions you have is whether or not All My Children fans will have the opportunity to experience an All My Children Fan Club Weekend of the caliber that General Hospital fans enjoy each year. Iím happy to say that the answer is YES and we are hard at work preparing the first annual All My Children Fan Club Weekend to take place this summer. Further details will be announced as they develop.
I look forward to sharing the All My Children experience with those GH fans who, like me, are fans of ALL of ABC Daytimeís wonderful shows. I would like to thank Carol Dickson and AnneMarie Donelin for the hard work and time they have invested into their tenures as presidents of the All My Children Fan Club and I wish them the best in their future pursuits.
Again, please be sure and check out the revamped website for the Official General Hospital Fan Club (www.ghfanclub.com) and the new website for the Official All My Children Fan Club (www.amcfans.com). Mailing list forms are available on each, as well as email contacts for each official fan club.
Sincerely,
Debbie Morris
President
Official GH Fan Club
ghpcfanclub@aol.com
Official AMC Fan Club
amcfnclb@aol.com
2003 SUPER SOAP WEEKEND
********
May 31- June 1 (AMC & OLTL) June 7 & 8 (GH & PC)@ DISNEY's CALIFORNIA ADVENTURE in Anaheim, CA!

w/Rick Hearst, 2004 & 2007 Emmy Winner: Supporting Actor. Congrats Rick!
Great video of Rick accepting his first EMMY (1991 for "GL") on You Tube @ CLICK HERE!
HERE'S THE 2ND EMMY WIN (2004 for "GH")FROM "YOU TUBE", AS WELL
********
Ric Lansing, "General Hospital"
ex- Alan-Michael Spading, "Guiding Light"
ex-Scott Banning, "Days Of Our Lives"
ex-Whipple 'Whip' Jones, III, "The Bold & The Beautiful"
ex- Matt Clark (aka Carter Mills), "The Young & Restless"
Lance Rubacky, "Maggie Winters".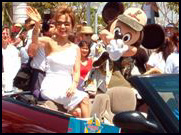 Miss Susan Lucci (Erica Kane, AMC) & Mr. Mickey Mouse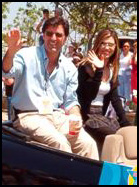 Finola Hughes & Vincent Irizarry (Anna & David, AMC) in the parade.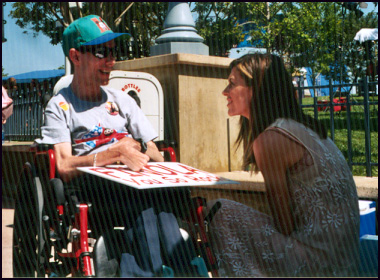 ...with Finola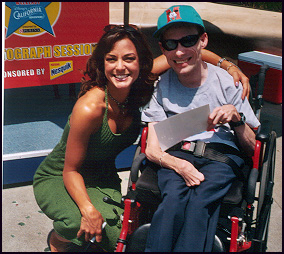 ...with Eva La Rue


Eva La Rue (Maria, AMC) & John Callahan (Edmund, AMC)

Rebecca Budig (Greenlee, AMC)
MORE PHOTOS LIKE THIS:
Thorsten Kaye (of Port Charles; Zach Slater, AMC & Minnie Mouse
We thank you for the


hits we have received here!
Photos by Joann Baker & Jeanne Baker-Poggensee. All material

Copyright 2001-04 by John H. Baker, unless otherwise indicated.