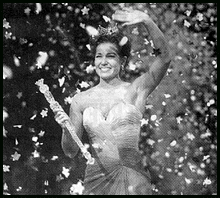 Meet Miss America 2000
Heather Renee French
Maysville, Kentucky
Date of Birth: 12/29/74
Parents: Ronnie and Diana French
Education:
University of Cincinnati Masters Program
University of Cincinnati Graduate
Mason County High School
Platform Issue: Homeless Veterans Outreach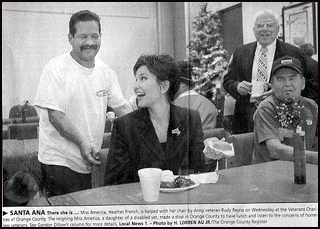 Visiting homeless veterans in Orange County, CA during her year of service
Scholastic Ambition: To Complete Masters of Design Degree. Also to Complete Fashion Illustration Text Book for College Level Design Students
Talent: Vocal: "As If We Never Said Goodbye" from Sunset Boulevard
Scholastic Honors:
University Graduate Scholarship; 1997 Mercantile Future Designer Award; 1995 Golden Brush Illustration Award
Other Accomplishments: Volunteer with VA Hospitals for Funding of Veterans Programs; Statewide Vietnam Veterans Awareness Campaign; Dale Carnegie Achievement Award
Employment: Fashion Drawing Instructor - U of C; Art Director-EPA, Welage International., Inc.,Targeted Media, Make-A-Wish Foundation; Maysville/Mason County Tourism Commission
Family: Father is a Disabled Vietnam Veteran. Mother is a Seamstress and Child Care Giver. She has one sister, Gretchen, 29, and two brothers, Jeremy, 26, and Jamison, 13.
Career Ambition: After Completing Text Book, to Pursue Career as a Designer of Women's Career Wear and Accessories, Eventually Adding a Home Interior and Textile Division
Local Pageant Sponsor: Miss Louisville Scholarship Organization
State Pageant Sponsor: Miss Kentucky Scholarship Organization, Inc. Lexington
Congratulations, Heather, on being the first Miss America to receive the MAO Woman of Achievement award!
MISS AMERICA HOT ON QUIZ SHOWS
2 FEB 2000
Miss America was a topic on "Jeopardy" February 1, 2000. The clue concerned Miss America 1971, Phyllis George. An additional clue in reference to Miss America 2000, Heather French was used October 25, 2000. ABC's "Who Wants To Be A Millionaire?" followed suit with a question regarding the 1995 swimsuit vote. "Millionaire" is hosted by then pageant emcee, Regis Philbin.
French To Be A Mom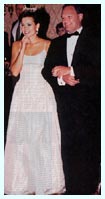 French and Henry before their marriage
Miss America 2000, Heather French married Kentucky Lt. Gov. and orthopedic surgeon, Steve Henry, 46, on October 27, 2000 in Louisville. Henry plans to run for Governor in 2003.
The couple has announced they expecting their first child (a girl) in July 2001.
KENTUCKIAN OF THE YEAR
(AP) Heather French has been named Kentuckian of the year (1999) by Kentucky Monthy Magazine, which not surprisingly landed her on the cover. French edged out Gov. Paul Patton, Diane Sawyer, and Cleveland Browns quarterback Tim Crouch for the honor.
1999 FINAL RESULTS
Miss America 2000 Heather Renee French KY
1st Runner-up Jade Smalls IL
2nd Runner-up Susan Spafford PA
3rd Runner-up Keri Schrader MD
4th Runner-up Yancy Yarbrough TX
Semi-finalist Sylvia Gomes CT
Semi-finalist Brandy Rhodes AR
Semi-finalist Mary-Louise Kurey WI
Semi-finalist Victoria Andrews Paige NJ
Semi-finalist Julie Smith AL
1999 PRELIMINARY RESULTS
TUESDAY

TALENT: WISCONSIN
(opera)
SWIMSUIT: KENTUCKY

WEDNESDAY

TALENT:LOUISIANA
(ballet)
SWIMSUIT: RHODE ISLAND

THURSDAY

TALENT: VIRGINIA
(vocal)
SWIMSUIT: NEVADA
SPECIAL AWARDS
BUSINESS: TENNESEE
SCHOLARSHIP: LOUISIANA
QUALITY OF LIFE: NEW HAMPSHIRE
RUNNER-UP: KENTUCKY
RUNNER-UP: ALABAMA

BERT PARKS NON-FINALIST TALENT AWARDS

NEW YORK
LOUISIANA
CALIFORNIA
UTAH
IOWA
MASSACHUSETTES
DISTRICT OF COLUMBIA
MISSISIPPI
VIRGINIA
GEORGIA

*This year's telecast, hosted by Donny & Marie Osmond, attracted 15.4 million viewers (an increase of 9% over the previous year) and ranked #10 in the weekly Nielsen ratings.

Since its inception in 1921, as a PR gimmick to extend the Summer tourist season in Atlantic City, New Jersey, The Miss America Organization has grown to become the single largest provider of scholarship money for women the world. No longer just a bathing beauty like Miss America 1921, Margaret Gorman of Washington, D.C.; Miss America 2000, Heather Renee French, kicked off her year of service to America's Homeless Veterans at an event called "Stand Down",near San Francisco. Practical assistance was also provided for the vets.

MISS AMERICA OFF CAMPAIGN TRAIL

1 NOV 1999

Miss America 2000, Heather French has been told by pageant officials that she cannot make campaign appearances for Kentucky Governor,Paul Patton and Lieutenant Governor Steve Henry, whom she is dating. Click here for more. *The couple has since married, and had a child as noted above

MISS AMERICA GOES TO WASHINGTON

24 OCT 1999

Miss America 2000, Heather French held a Capitol Hill press conference October 21, 1999 to promotes her cause of aiding the 250,000 homeless veterans who live on America's streets. French's father, himslf a disabled veteran is the motivating factor behind the fashion design student's campaign. She said she came to Washington because it was "the one place I thought I could make the biggest impact.