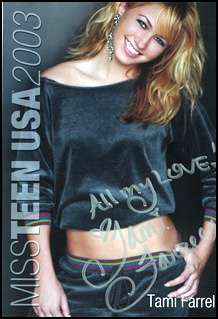 ***
Thanks & Good Luck, Tami!
TAMI'S CROWNING MOMENT...

FROM YOUTUBE.COM

(C)Copyright 2003 Miss Universe Org.

Best wishes to Oregon's Tami Farrell who proved she earned the crown, and the "Miss Congeniality" award while helping us out of the hotel with our stuff...if only we could have located our camera, there'd be a more casual but no less adorable photo here... Thanks again, Tami! Have an awesome year!
E-mail from Tami:
The webmaster received the following September 11, 2003:

John,

It was very nice meeting you as well. Thank you so much for all of your support! Have a beautiful day!

Love,
Tami Farrell
Miss Teen USA

Tami Farrell, Miss Teen USA 2003, has a weekly blog click here

Hear the music of Tami Farrell, Miss Teen-USA 2003: "by clicking here
Tami's OFFICIAL WEBSITE: http://www.tamifarrell.net

*****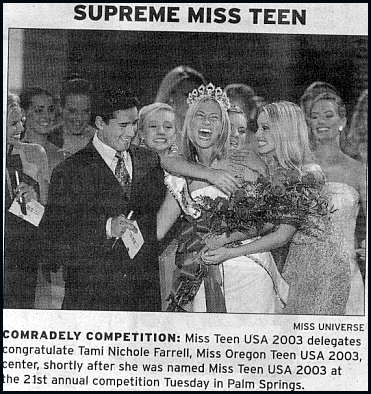 ***
I spoke with Tami and her Mom at the 2006 California state pageants in Palm Springs... (tami judged the Teen division (See my webpage @ : https://jhb14.tripod.com/pageants/id7.html )
She is busily auditioning and came close to some BIG parts...She hopes to have a CD out next year!
****
Tami's Mom, Stephanie Farrell, sent me the following July 4, 2005 Tami told me to tell you hello. She is moving from L.A. to NYC for the summer to attend the New York School for Film and Television summer intensive program, and when she returns, she and Shandi are moving in together. Tami and possibly Shandi will be hosting the Southern Oregon preliminary in August.
***
Tami's Mom, Stephanie Farrell, sent me the following February 26, 2005
in response to this article: Thank you John, How did you find that? She just did that in the last few days. How are you? Tami is doing great. She is working with a great songwriter on music for her demo cd. She is busy going on auditions every day and of course acting school. Please say hello to your mom!
Talk to you soon!
Stephanie
We thank you for the

hits we have received here!
All material

Copyright 2001-10 by John H. Baker, unless otherwise indicated.