JHB ONLINE: PAGEANTS
MISS USA 2004
Dress Rehearsal & Telecast
Los Angeles, CA
April 12, 2004
DRESS REHEARSAL
Before the final festivities could begin, there were a few things to do... so family, friends, contestants, staff and fans gathered at The Kodak Theatre at 11:00 a.m. for "dress rehearsal" which is essential a "mock pageant." Random finalist are chosen, mock interviews done.
Host Nancy O' Dell appeared almost ready for the big show, where co-host Billy Bush opted for a more casual look (t-shirt, jeans, and a sport coat) and attitude. The audience the loose atmosphere, knowing the tension to come.
The delegates looked great and showed acting talent when "random" cuts were made from 51 to 15, 10 & 5. They were however in various states of readiness. Mock semifinalist from Hawaii and Oklahoma looked as is this were the real thing, but Miss Alabama-USA hadn't yet applied her make-up, and Miss North Carolina sported eyeglasses! Yet, they still glowed with the excitement of the day! As did Susie Castillo, Miss USA 2003, rehearsing in her show clothes with yet-to-be done hair.
The highlight was a male staff members crowning moment, as a great time was had by all.
On the way out, my Mom, Joann, and I visited with the family of Vanessa Bisanti, Miss New Hampshire-USA. They were so sweet, but nervous as they were rookies in the pageant world. We didn't see them after the telecast, but they had to be pleased with a top 15 finish.
Mom and I also had another brief encounter with Susie Castillo, on her way to put the finishing touches on her hair. She was pleased with dress rehearsal and to get on with the show...and her new life.
THE MAIN EVENT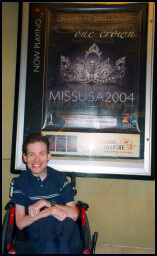 As we assembled to enter the theatre a few celebrities were spotted such as Paula Abdul, and Emmy-winner, Jordi Vilasuso (Ex-"Tony" on Guiding Light. Many 2004 state "Teen-USA" title holders were also in attendance.
Prior to the show producer/choreographer Scott Grossman treated us to a final runthrough of the opening number to clean-up some problems noted in dress-rehearsal, then it was non-stop action through to the crowning of Missouri's Shandi Finnessey. Complete results here.
A post telecast traffic jam in the parking garage led to more conversation with Tami Farrell, the current Miss Teen-USA. We congratulated each other on picking the winner during prelims...and I was pleased to meet her parents, Stephanie and Tim, face to face. Wishing each other well until the Teen event this summer, my Miss USA 2004 adventure was complete!
***
THE CROWNING MOMENT
From YOU TUBE
Miss Missouri Crowned Miss USA 2004

By BETH HARRIS
(C)The Associated Press

LOS ANGELES (AP) - A fast-food loving beauty queen from Missouri who has two master's degrees and once wrestled a greased pig in a mud pit was crowned Miss USA 2004.

Shandi Finnessey, 25, won the title Monday night over 50 other contestants and will represent the United States at the Miss Universe pageant in Quito, Ecuador, on June 1.

Amanda Helen Pennekamp, Miss South Carolina, was first runner-up. Ashley Rachel Puleo, Miss North Carolina, was second runner-up, followed by Miss Oklahoma Lindsay Hill and Miss Tennessee Stephanie Culberson.

Finnessey, a 5-foot-11, blue-eyed blonde who said her favorite food is a supersized extra-value meal from McDonald's, jumped up and down and pumped her right arm while steadying the crown with her left hand after it was pinned on by outgoing titleholder Susie Castillo.

She holds bachelor's and master's degrees in psychology and counseling from Lindenwood University, and would like to use her counseling degree in a television job. She has published a children's book.

Finnessey, of Florissant, Mo., listed bungee jumping and wrestling a greased pig in a mud pit as the craziest things she has ever done.

The contestants were trimmed to 15, then 10 and finally five finalists, who were asked questions written by their fellow contestants.

Finnessey was asked whether experience or education serves a person better in life.

``Definitely experience because you get your knowledge through experience,'' she said. ``Each moment that comes by, I think that teaches you more knowledge than anything you could possibly read in a book.''

The winner's prize package includes a New York City apartment for a year, extensive travel opportunities, a yearlong salary, and a two-year scholarship worth $45,000 to The School for Film and Television in New York.

The pageant is co-owned by NBC and Donald Trump, who opened the telecast by telling Castillo, ``You're fired,'' his ubiquitous phrase from the network's hit show ``The Apprentice.''

Nancy O'Dell and Billy Bush of ``Access Hollywood'' co-hosted the pageant at the Kodak Theatre. The event began in 1952 in Long Beach as a promotion for a swimsuit manufacturer.

The judges were race car driver Jeff Gordon, Los Angeles Lakers owner Jerry Buss, former NBA player John Salley, Mekhi Phifer of ``ER,'' Rocco DiSpirito of ``The Restaurant,'' and fashion designer Jill Stuart.
NBC Scores Trump-Inspired Ratings Win

By DAVID BAUDER
(C) The Associated Press

NEW YORK (AP) - NBC owes Donald Trump a big thank-you bouquet: the outsized real estate mogul was almost single-handedly responsible for the network's ratings sweep last week.

The finale of ``The Apprentice,'' where Trump hired Bill Rancic to oversee a Chicago construction project, was seen by more than 28 million people last week.

That was only the beginning, though. A ``Dateline NBC'' special behind-the-scenes look at ``The Apprentice,'' had 10.4 million viewers and ranked No. 22 in viewership for the week.

NBC News received criticism for its extensive Trump coverage. But it paid off in the ratings; a Trump profile on ``Dateline NBC'' was the second most-watched show (behind a ``Cold Case'' rerun) on Friday night.

The ``Miss USA'' pageant, which moved to NBC after many years on CBS, had its biggest audience in six years. (13.1 million viewers, #14 for the week)

The pageant's owner? Donald Trump.

A special edition of ``Fear Factor'' with Miss USA contestants landed in Nielsen's top 10, drawing more viewers than the pageant itself.

Trump TV enabled NBC to win the week with 11.6 million viewers (7.6 rating, 13 share), a competition dominated by CBS this season. NBC also handily won among the 18-to-49-year-old demographic that advertisers love.

CBS was second with 10.8 million viewers (7.1, 12). Fox, hurt in the ratings when President Bush's news conference forced the network to move back ``American Idol,'' averaged 8.3 million (5.2, 9) and ABC had 7.4 million (4.8, 8).

The WB had 3.4 million viewers (2.3, 4), UPN 2.9 million (1.9, 3) and Pax TV 960,000 (0.6, 1).

***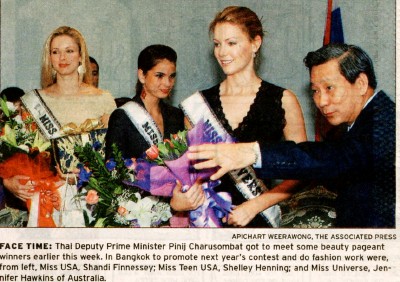 The 2004 titleholders promote the 2005 Miss Universe competition in Thailand.