JHB ONLINE: PAGEANTS
MISS USA 2004
Presentation Show
Los Angeles, CA
April 8, 2004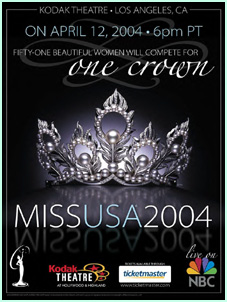 The 2004 Miss USA competition kicked off with an elegant preliminary event hosted by Los Angeles news personality Sam Rubin, Miss Universe choreographer and producer Scott Grossman and Miss USA 2003, Susie Castillo in a "resplendent red" gown, worthy of the Oscar hosting Kodak Theatre, where she received the audience's appreciation for a job well done, as she raised $28 million dollars for breast and overian cancer charities throughout the year. She also lamented the two and a half hours of daily gym training she used to help shape-up for the previous years competition.
Red was the order of the night as the delegates hit the stage in bright red brief bikinis, some wearing "belly chains!" Height proved valuable as many contestants topped 5-foot-10 inches. Florida, Missouri, Oklahoma and North Carolina were the early standouts, while Arizona, Georgia, Tennessee, Illinois, Kansas, Maryland, and Virginia looked confident and ready to challenge.
Gowns ranged from South Carolina in white ostrich feathers to Miss Rhode Island's orange number with flowings wings. For me, Missouri and Florida again! Watch for them. But Georgia, Illinois, Louisiana, Michigan, Tennesee, Oklahoma, North Carolina and Virgina were also stunners in a spectactular evening gown parade.
Actually, without the benefit of interview info, the top 15 seems like anyone's game. In addition to those already mentioned Hawaii, California, and Texas exhibited an overall appeal that could serve them well. Only the judges and accountants know for sure!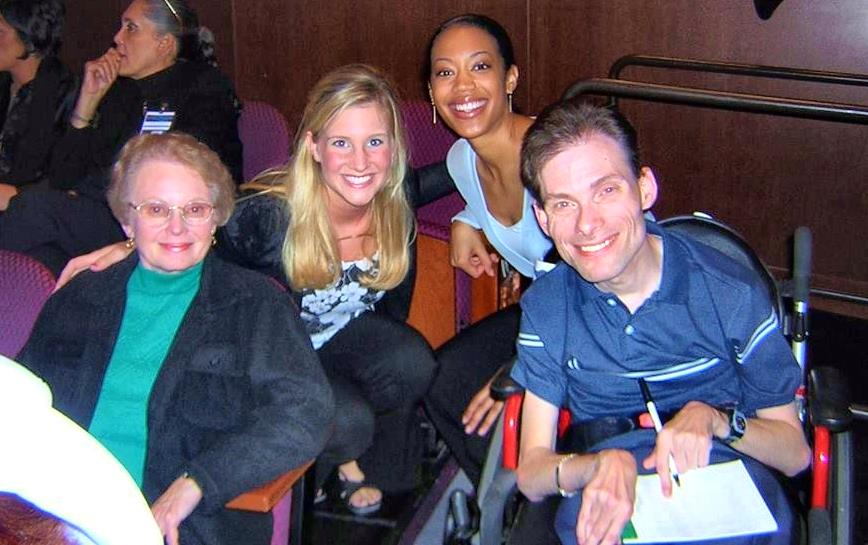 My Mom, Joann, and I at Miss USA 2004 with Dottie Cannon (Miss MN-USA 2006) & Jessica Billings (Miss PA-USA 2013) years before they received their state title and would compete at Miss USA themselves! DREAMS DO COME TRUE!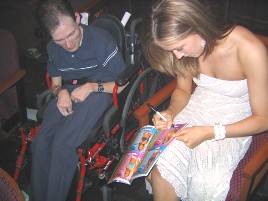 ...with Tami Farrell. (photos by Justin Baldoni. Courtesy of Tami Farrell & family.)
At the end of the evening I visted with Susie Castillo and Miss Teen USA Tami Farrell, both of these gracious women were thoroughy enjoying the evening and Susie was glowing over her recent engagement. I thank them both for their help with this webpage.
Watch the final event Monday April 12 begining with Miss USA: Fear Factor @ 8 pm/7ct on NBC!

To submit your pageant related web page or site for inclusion on this list PLEASE CLICK HERE
to e-mail the Webmaster. Include the name of the page/site, complete URL (web address), contact person's name, a some site background.
The JHB Website reserves the right to refuse or delete any submission at any time, and for any reason without notice. Pageants for entrants under the age of 13 need not apply. ** Objections to a specific linked entity may be sent via e-mail as above, and will be investigated.
NOTE:The JHB WEBSITE bears no responsibility for the contents of any site or newsletter linked hereon. Nor is inclusion on this list an endorsement of an pageant program. Links provided as a courtesy only.
RETURN TO JHB ONLINE: PAGEANTRY