Stars On Ice postpones tour until Spring 2002
Okay, I admit I was at The World #figureskating championships in 1990 in Halifax and literally witnessed this, but was final #jeopardy that difficult?
Final Jeopardy (February 16, 2021)
watch via @YouTube<\a>
Kurt Browning expected to take part in online tribute to Health Care Workers
Kurt Browning to lead Stars On Ice Tour through Canada And California Spring 2020! Information here! TOUR CANCELLED Information here..
All the best KB! #starsonice #Canada
And thanks for the memories!
Kurt's Statement
about his SOI years via Twitter here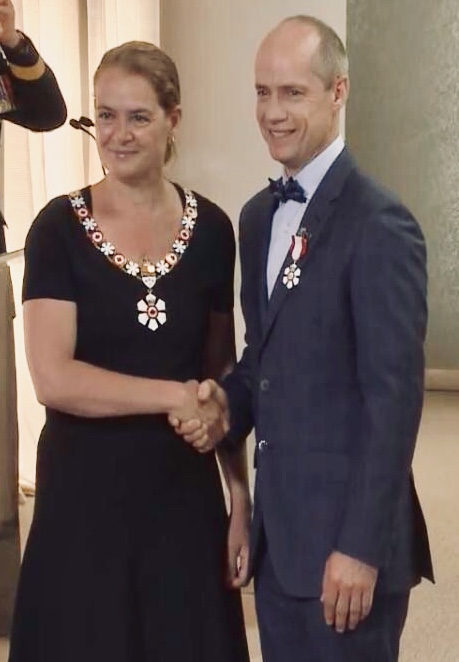 ‪ Congratulations Buddy @KurtBrowning !
well deserved! your friend, John ....Honored to know you along your journey ....
Kurt Browning Receives Order of Canada! More via Kurt's twitter here!
Kurt Browning appearing in 5 cities only in 2016!
http://StarsOnIce.ca
@jhbonline @AshWagner2010 @ShibSibs @KurtBrowning - Hi John - Ottawa, Toronto, Hamilton, Calgary & Vancouver

— Stars on Ice (@starsonice) January 13, 2016

*********

Kurt Browning inducted into World Figure Skating
HOF Calgary 2006. jhbonline.net photo
Great Halloween On Ice REVIEW for Kurt:
Sorry I Couldn't see it!
Wont make SOI:Canada 2015 due to hospitalization/illness but this is ALMOST AS GOOD! Thanks to Kurt and the gang with all my HEART!!!!!!!!!!!! <3 John
News
NEW TRAINING REGIMEN! Cant wait to see your new muscles! LOL!

#FigureSkating FACES MAGAZINE INT W/ Kurt Browning
@KurtBrowning @SkatingPJ preview Worlds #Shanghai2015 http://www.cbc.ca/sports-content/figureskating/video/#id=2659296936
Via MERRY CHRISTMAS FROM Kurt Browning & Stars on Ice and right back at ya everyone!...
You're too old for weird tricks Kurt Browning! Happy "Holiday Festival on Ice" <3 John, jhbonline.net/kb
######################
Kurt Browning Stars In & Choreographs Stars On Ice Canada 2015!
@cbcsports ·
#FigureSkating #Canada Kurt Browning announces he will be both a performer and choreographer for Stars on Ice (CANADA TOUR) 2015... Does this mean Vancouver in the Spring? Maybe... Stay tuned...
‪‪









#FigureSkating Here's my buddy Kurt's Ice Bucket ALS Challenge Kurt Browning ALS Ice Bucket Challenge:

http://youtu.be/5A79znTubc4

via @YouTube More Kurt Browning at jhbonline.net/kb














Kurt Browning via twitter regarding this article:
Kurt Browning via Twitter in response to Scott Hamilton & Sandra Bezic being replaced on NBC! As detailed here...
@jhbonline @ScottHamilton84 & @SandraBezic taught me more than anyone else both on & off the ice. Their on air work will be missed !!

— Kurt Browning (@KurtBrowning) September 20, 2014
#Olympics are about the athletes. Good luck #TeamUSA #TeamCanada & all competitors!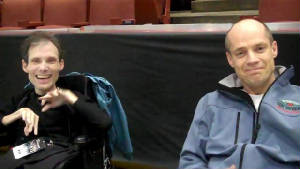 New blog from my friend (& My Pal Kurt Browning's wife) Sonia Rodriguez @SoniaNBOC of the The National Ballet of Canada #Ballet

http://ballerinatothepoint.com/
Great New York Times article about my buddies Kurt Browning Sonia Rodriguez Jirina Ribbens and the Ice Theatre of New York. Nobody understands how much I wish I could've joined them to support them as they have always supported me... You are all family. <3 John

Here's an article from NY Times! Sorry I missed it: NY TImes: Seeking Inspiration, to Be Served Well Chilled

http://nyti.ms/16HiIxq
Happy New Year: Holiday Festival fills in for Stars on Ice - LakePlacidNews.com | News and information on the Lake Placid and Essex County region of New York - Lake Placid News

http://shar.es/9rOzO

via @sharethis ---Weird no Stars on Ice this time of year!
ON THE SCENE: Exhibit worthy of a gold medal - LakePlacidNews.com | News and information on the Lake Placid and Essex County region of New York - Lake Placid News
http://shar.es/9tmH0
via @sharethis
March 26, 2013;

This is 4 U! Thanks 4 25 yrs of friendship today! :) John <3 & "Happiness"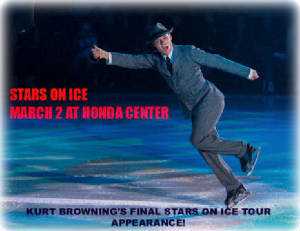 Good Holiday Offer for fans of figure skating, Kurt Browning, and/or Stars On Ice!

Find how you can order these classic DVDs & Don't forget to find out how you can see the 2013 tour LIVE at

http://starsonice.com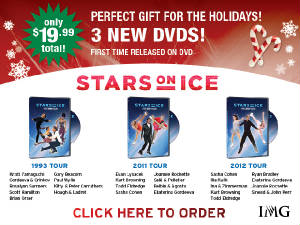 Kurt Browning Website: New URL! New Design!

In honor of the 24th anniversaryof the day I met @KurtBrowning  at the World Championships in Budapestu , Hungary  March 2 6, 1988! A day that changed my life :)Kurt Browning Website: New URL! New Design!
http://www.jhbonline.net/kb/index.html
Received in Reply from US, World & OLYMPIC champ, Kristi Yamaguchi ( #DWTS champ too..)
Another Great Article Figure skaters are airtime addicts
http://cbc.sh/2rGGaWP
by my buddy, Kurt Browning
@jhbonline

Must be a big deal to keep you from a skating show. Let the doctors do their thing and you supply the strength. Kurt
@jhbonline

Hey John, sounds like you better get it over with and get back to the Beauty Queens. Stay Stong. Kurt
@KurtBrowning

At my appt yesterday, Drs. advised I my third procedure, soon,. No date set yet. Thanks for hanging in on this long journey
JHBONLINE.NET EXCLUSIVE 2011 "STARS ON ICE" BACKSTAGE PHOTOS HERE! FIRST NEW "KURT & ME" PHOTOS IN 6 YEARS!
MORE WITH KURT FROM CLEVELAND (SOI):
Find JHBonline.net on these Social Networking Websites:

Facebook:

Twitter:

YouTube:

*************************************************************
Champions head to town for Stars on IceNews Channel 5 Cleveland

Tue, 22 Mar 2011 14:08 PM PDT

World champion figure skater and Stars on Ice headliner

Kurt Browning

stopped by NewsChannel5 at noon Tuesday to talk about the upcoming Cleveland stop of the Stars on Ice Tour.

Iconic Canadian Browning still loves to skate and perform
The Sudbury Star Mon, 20 Dec 2010 06:07 AM PST
It feels like I see Kurt Browning everywhere this fall, popping up on television, Saturday afternoon sports, Battle of the Blades, and, now, behind the black curtain at Sudbury Community Arena on Saturday night.[...]
Via @Stars on Ice

@KurtBrowning is our Featured Skater this week! Check out Kurt's special video message for the fans here! -

http://on.fb.me/i2PPQJ

Kurt Browning in Smucker's Stars on Ice
Via @starsonice Smucker's Stars on Ice
Read this exclusive interview with @KurtBrowning , as he talks Stars on Ice and more!
http://bit.ly/hijGWc
Parity, judging make for intriguing men's skating fieldCBC.ca

Tue, 23 Nov 2010 12:04 PM PST

"In the last 15 years, the world has gotten so competitive. In my day, there really was only me and Viktor [Petrenko] and now there are 10 guys who can challenge on any given day." Those are the words of Canada's four-time world champion figure skater

Kurt Browning

and it's an accurate perspective on the 2010 ISU Grand Prix season
BROWNING HOUSE FIRE:
Blaze guts Browning's Toronto home
AFP via Yahoo! News Wed, 18 Aug 2010 11:50 AM PDT
A fire gutted the Toronto mansion of Canadian figure skating champion Kurt Browning in the city's Forest Hills neighborhood on Wednesday, an official said as the blaze still flared.
Kurt Browning's Toronto home hit by fire
CBC.ca Wed, 18 Aug 2010 10:36 AM PDT
Fire crews say a leaf blower is to blame for a major blaze at the Toronto home of former Canadian figure-skating champion Kurt Browning and his wife, Sonia Rodriguez, the National Ballet's principal dancer.
My Buddy Kurt Browning (@KurtBrowning) via Twitter... KurtBrowning Just donated my Delta Skymiles to one of their charity choices. Canine Assistants. Maybe some of them might have been shelter dogs once? --good job -- miss u buddy :) http://kurtbrowning.jhbonline.net
Kurt Browning fan Facebook page (not mine):
Kurt Browning makes the Games a family affair
Vancouver Sun Thu, 17 Dec 2009 01:06 AM PST
Kurt Browning will have one hand on the Olympic torch Saturday in Mississauga and the other holding the hand of his six-year-old son, Gabriel.

Olympic Torch Approaches Toronto
CityNews Wed, 16 Dec 2009 15:52 PM PST
Kurt Browning appeared outside Citytv headquarters at Yonge-Dundas Square in a show of support for the Olympic athletes.
Kurt hosts "Thin Ice" on ABC-TV March 19 &21, 2010-- info @
Browning puts skating career on paws
Toronto Sun Fri, 20 Feb 2009 23:45 PM PST
Figure skating star Kurt Browning liked going to the dogs so much yesterday he'll do it again here tonight.




Browning promotes responsible pet adoptions
Toronto Sun Fri, 20 Feb 2009 16:54 PM PST
Former figure skater Kurt Browning will perform Saturday night at the Legends Centre to help pets find a good home. Updated 20th February 2009, 5:31pm







Kurt is quoted @:
Stars on Ice is 'On the Edge' as it returns to the JLC
LondonTopic.ca Mon, 01 Dec 2008 5:11 PM PST
Each spring, fans across Canada are treated to one of figure skating's greatest spectacles as Stars on Ice tours the country, and with Kurt Browning headlining, the show will once again make a London stop at the John Labatt Centre, come spring.



Part of the obituary for Kurt's dad from November 25th issue of The Mountaineer, Rocky Mountain House:

On November 20th, 2008, Dewey Browning passed away at the age of 86. He was first diagnosed with cancer in 1992, then 2003 and 2007. He had planned to be a three-time cancer survivor but it proved too strong for him to wrangle this time. He was predeceased by his parents, wife Neva and brother Dick.
He is forever remembered by his companion, Karen Caiati; his children Wade (Cindy) of Calgary, Dena Miller (Dan) of Rocky and Kurt (Sonia) of Toronto, Ontario; grandchildren Jeremy Browning, Kaylei Whitman, Jesslyn and Joelle Miller, Gabriel and Dillon Browning Rodriguez; his sister Thelma Montgomery and Aunt Elsie Stewart of Ricinus, numerous cousins, nieces, nephews, neighbours and friends.
Arnold John Browning was born near the Clearwater River November 3, 1922, to Jack and Gladys, moving five miles upriver at the age of seven where he made his home for his entire life....

Photo: Skate America, Indianapolis, IN. Oct.1989
KURT: HAPPY 24thnANNIVERSARY OF YOUR 1ST QUAD (MARCH 25, 1988)...AND THE DAY WE MET (MARCH 26, 1988)
KURT CHAMPIONS ORGANIC BABY FOOD
4-Time World Title Holder and 3-Time Olympian, Will Promote Fast Growing Product Line

TORONTO--(Business Wire)--


Clearly Canadian Brands (OTCBB:CCBEF) (the "Company") today announced the signing of 3-time Olympic Figure Skater Kurt Browning along with his wife Sonia Rodriguez, principle dancer with the National Ballet of Canada, to a two year exclusive spokesman agreement for its My Organic Baby Line.

As the leading manufacturer and distributor of organic baby food in Canada, My Organic Baby is thrilled to partner with Kurt Browning and his family. As a professional athlete and father of two young boys, Kurt Browning knows the value of making healthy eating choices. That's why he and his wife Sonia made the personal commitment a year and a half ago to transition their family to natural and organic foods.

"Having already made the commitment to eating and feeding organic foods, Kurt, Sonia and their children are the perfect addition to the My Organic Baby family," said Orlee Muroff, President of My Organic Baby.

"We are excited about this new relationship with My Organic Baby," said Kurt Browning. "It is reassuring knowing our children are getting the best, purist food available. I'm happy to spread the word on organic eating and feeding with other parents like us."

-------------------------------------------------------------------------------
---
Kurt Browning Champions Dog Adoption Program
The Pedigree Adoption DriveTM campaign aims to raise $500,000 for shelter dogs across Canada

Toronto, ON – Sadly, each year in Canada, tens of thousands of unwanted dogs end up in shelters because there aren't enough homes. The makers of Pedigree® have launched the Pedigree Adoption DriveTM campaign to raise funds and find loving homes for shelter dogs across Canada. Joining Pedigree® in this important program is World Figure Skating Champion, and self proclaimed Dog Lover, Kurt Browning.

"I know first hand how amazing it is to have a dog in your life," said Kurt Browning, World Figure Skating Champion and Pedigree Adoption DriveTM spokesperson. "Growing up, we always had a dog, and I strongly believe in their ability to impact a person's life in positive ways. In fact, as a child I even had a dog that taught me how to skate! I consider myself a true dog lover, which made getting involved with the Pedigree Adoption Drive campaign such an easy decision for me."

The goal of the year-long campaign is to raise $500,000 to go towards helping dogs – be that covering vet care, vaccinations, shelter and food for approximately 2,000 dogs across the nation.

Shelter dogs make great pets. Adopting from a regulated shelter means the dogs have already received a clean bill of health from a veterinarian. They will have all their shots up-to-date and be spayed or neutered. Staff are also on hand to help make the selection process easier and can help choose the appropriate dog to fit your lifestyle - whether it be a high-energy puppy who could use the affection of a large family or a laid-back mature dog perfect for empty nesters.

"There are too many dogs right now living in shelters waiting to be adopted," says Kevin Lake, Marketing Director for Pedigree®. "The Pedigree Adoption DriveTM campaign is all about encouraging Canadians to consider adopting a shelter dog, even if you can't adopt a dog right now, there are lots of other great ways people can contribute, just go to www.mypedigree.ca to find out how."

The makers of Pedigree® have partnered with 26 shelters across Canada and will be donating a minimum of $5,000 to each shelter to be used to provide support for dogs in their care. In addition, shelters will receive a digital camera that can be used to upload pictures of available dogs on to their shelter page on www.mypedigree.ca. The makers of Pedigree® will also be providing new dog owners with a Pedigree® Adoption Starter kit which includes wet and dry food, treats, coupons and a dog owner's handbook that outlines helpful tips and information about dog adoption.

About the Pedigree® brand
Pedigree® is the number one brand of dog food in the world offering a wide variety of products for different dog life stages. As an innovative market leader, the makers of Pedigree® are at the forefront of dog nutrition and understand dog owner needs by providing a range of innovative products and resources. Pedigree® products are available at grocery, pet specialty and mass merchandise outlets.
With Kurt @ Skate America (Indianapolis, IN: October 1989)
Notice: Kurt & I may not be as close as were once were, but I hope you'll enjoy reading about our backstage adventures!
BUT YOU CAN REACH KURT AT:
C/O:

David Baden
304 Park Avenue South, 5th Floor
BROWNING FAMILY WELCOMES A BABY BOY
Kurt Browning and his wife, Sonia Rodriguez, are thrilled to announce the birth of their son, Dillon, born Tuesday, August 14 in Toronto, weighing seven pounds. The couple's first-born son, Gabriel, is equally excited and is already enjoying his new role as Dillon's big brother.
"We're very thankful for the blessing of a happy, healthy baby boy and for all of the well wishes we have received," said Browning. "Mom and Dillon are both doing very well and we're having a great time enjoying this special time together as a family."
Kurt will take to the ice again in October for 'Kurt Browning's Gotta Skate' show on October 10 at the Hershey Centre in Mississauga before he joins the cast of Stars on Ice for his 17th tour across Canada in April, 2008.
My favorite Kurt program: "Serenade to Sonia"
FROM YOU TUBE
June 27, 2007 update from IMG:
Hi John. Kurt is doing well and very busy as always. Thanks for changing the contact information on the site with my information. Kurt and Sonia are having a second child this fall! He will be in Phoenix for Kristi's show. Other than that...he is doing theatrical production of Peter Pan in Toronto this fall
David ----------
Kurt Skates to "Casablanca" & wins his 4th World Title
from You Tube
My Journal (BLOG) of time spent with Kurt Browning is here!
JOUBERT HIRES BROWNING: Toronto Globe & Mail
Browning Inducted Into World Hall of Fame-- March 23, 2006
JHB Online photo of Kurt Browning World HOF induction ceremony @ Pengrowth Saddledome: Calgary, AB, Canada, March 23, 2006. Thanks for posing, Buddy!

Kurt Browning
Photo by Michelle Wojdyla
(12/15/05) - World Figure Skating Museum & Hall of Fame President Hugh C. Graham, Jr. M.D. announced today the 2006 elections of Kurt Browning of Canada and Frank J. Zamboni of the United States to the World Figure Skating Hall of Fame. Zamboni (posthumously) and Browning will be inducted during the 2006 World Championships in Calgary, Alberta, Canada, in March.
Kurt Browning (Canada)

Browning's amateur career included four Canadian men's titles and four World titles. He was the first Canadian man to win three consecutive World titles (1989, 1990 and 1991). Browning earned the distinction of winning the most championship titles by a Canadian singles skater with his combined four World titles. Browning also was a three-time Olympic team member.
At the 1988 World Figure Skating Championships in Budapest, Hungary, Browning made history by being the first man to land a quadruple jump (toe loop) at a World Championship. In addition to jumping records, Browning's trademark has been his incredibly fast footwork and interpretive skating, such as his Casablanca routine at the 1993 World Championships.
After retiring from eligible skating in 1994, Browning, a native of Caroline, Alberta, won three World Professional Championships. He has continued to remain active in figure skating as a choreographer and sports commentator.
Born on June 18, 1966, Browning was inducted into the Canadian Sports Hall of Fame in 1994 and Skate Canada Hall of Fame in 2000. His charitable work includes being the creator and sponsor of the Kurt Browning Junior Skating Awards. Browning is also the author of "Forcing the Edge" with Neil Stevens and his forthcoming book, "A is for Axel: An Ice Skating Alphabet."
What Browning has to say ...

Kurt Browning is more than just a casual observer when the Canadian Figure Skating Championships roll around. He'll soon be a Hall of Famer observer.

FULL STORY
Congrats to Kurt's Mentee, OLYMPIC BRONZE MEDALIST, JEFFREY BUTTLE!
TO ORDER KURT'S NEW CHILDREN'S BOOK: "A IS FOR AXEL," PLEASE CLICK HERE!
US TV Guide October 31, 2005-- pp. 11