My Other Sites:
About the webmaster, etc...
Faith Ford, George Clooney, ER & More...
More with Rick!
Info about my favorite sport!
Dedicated to my best buddy, 4-time World Champ, Kurt Browning
About Miss America, Miss Universe, etc.
Eder, Sills, Wildhorn, Egan & More...
Stars from "All My Children"
Stars from "All My Children" & "General Hospital"
More fun from the 2004 events!
NEW!!! Photos from the 2005 events!
More with Rick!
News of Rick!

***

Carpool Guy DVD to be released July 2005

THE MOVIE - Here is the movie you have been waiting for: "Carpool Guy." This full-length feature film includes special "Behind the Scenes" footage, alternate sub-titles in Spanish, French and Italian and a glimpse of the next Public Media Works release "Over the Hedge" Pre-order yours today. http://www.la-ideas.com/store/dvd.html Carpool Guy DVD - $24.95 Your DVD will ship the end of July 2005.

2005 SOAP OPERA DIGEST AWARDS

You the fans have spoken - over 20,000 of you. The ballots have been tabulated and the winners of Soap Opera Digest's 2005 Soap Opera Awards have been determined at last. Drum roll please…And, the ABC winners are: Outstanding Lead Actor: Maurice Benard (GH), Outstanding Lead Actress: Tamara Braun (GH), Outstanding Supporting Actor: Rick Hearst(GH), Outstanding Younger Lead Actor: Scott Clifton (GH), Outstanding Younger Lead Actress: Eden Riegel (AMC), Outstanding Male Newcomer: Justin Bruening (AMC), Outstanding Female Newcomer: Adrianne Leon (GH), Favorite Villainess: Jane Elliot (GH), Favorite Villain: Ted King (GH), Favorite Teen: Kristen Alderson (OLTL), Favorite Triangle: Natalie/John/Evangeline (OLTL), and Favorite Show: GH
***


Design by John

All material Copyright 2001-04 BY JHB ONLINE UNLESS OTHERWISE INDICATED.


Contact the webmaster here for more info.
2004 RICK HEARST FAN EVENT/GENERAL HOSPITAL WEEKEND
JULY 10 (GH LUNCHEON) JULY 11 (RICK HEARST EVENT) @ Sportmen's Lodge in Studio City, CA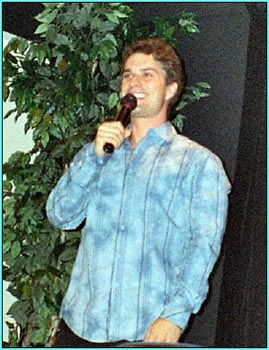 Our gracious host, Rick Hearst,
Check out Rick's upcoming film, Carpool Guy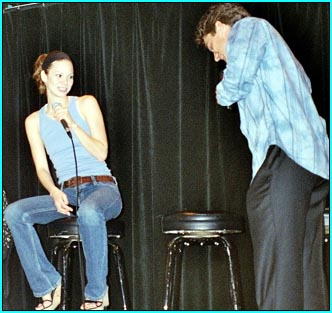 Rick & Tamara Braun ("Carly").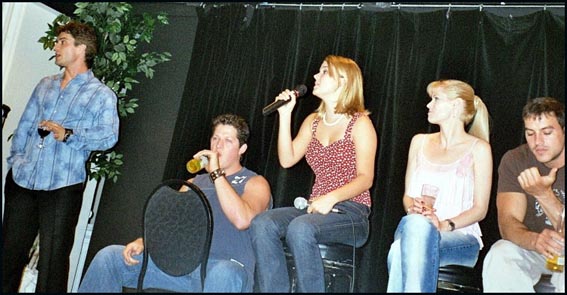 ...party time for Rick & his castmates!
Good Morning Everyone! GH received 13 nods this morning, below is a listing of those 13!
COMPLETE NOMINATION LIST HERE!
THE NATIONAL TELEVISION ACADEMY ANNOUNCES 32nd ANNUAL DAYTIME EMMY AWARD NOMINATIONS
Outstanding Lead Actor In A Drama Series: STEVE BURTON, AS JASON MORGAN
Outstanding Lead Actress In A Drama Series: NANCY LEE GRAHN, AS ALEXIS DAVIS
Outstanding Supporting Actor In A Drama Series: TYLER CHRISTOPHER, AS NIKOLAS CASSADINE; RICK HEARST, AS RIC LANSING
Outstanding Supporting Actress In A Drama Series: NATALIA LIVINGSTON, AS EMILY QUARTERMAINE; ROBIN CHRISTOPHER, AS SKYE QUARTERMAINE
Outstanding Younger Actress In A Drama Series: ADRIANNE LEON, AS BROOK LYNN ASHTON
Outstanding Younger Actor In A Drama Series: SCOTT CLIFTON, AS DILLON QUARTERMAINE
Outstanding Drama Series Writing Team GENERAL HOSPITAL * ABC ROBERT GUZA, JR., HEAD WRITER CHARLES PRATT, JR., HEAD WRITER ELIZABETH KORTE, ASSOCIATE HEAD WRITER MICHAEL CONFORTI, WRITER MICHELLE PATRICK, WRITER GARIN WOLF, WRITER MARY SUE PRICE, WRITER MICHELE VAL JEAN, WRITER SUSAN WALD, WRITER MICHAEL J. CINQUEMANI, WRITER
Outstanding Drama Series Directing Team JOSEPH BEHAR, DIRECTOR GRANT JOHNSON, DIRECTOR WILLIAM LUDEL, DIRECTOR SCOTT MCKINSEY, DIRECTOR OWEN RENFROE, DIRECTOR CHRISTINE MAGARIAN, ASSOCIATE DIRECTOR RON CATES, ASSOCIATE DIRECTOR PENNY PENGRA, ASSOCIATE DIRECTOR PETER FILLMORE, ASSOCIATE DIRECTOR RONALD C. CATES, ASSOCIATE DIRECTOR DAVE MACLEOD, ASSOCIATE DIRECTOR KATHY LADD, STAGE MANAGER CRAIG MCMANUS, STAGE MANAGER
Outstanding Drama Series GENERAL HOSPITAL * ABC JILL FARREN PHELPS, EXECUTIVE PRODUCER MARY O'LEARY, PRODUCER CAROL SCOTT, PRODUCER MERCER BARROWS, PRODUCER MICHELLE HENRY, PRODUCER DEBORAH A. GENOVESE, COORDINATING PRODUCER CHARLES PRATT, JR., CONSULTING PRODUCER ROBERT GUZA, JR., CONSULTING PRODUCER
Outstanding Achievement in Main Title Design KATHRYN PEASLEE, TITLE DESIGNER FABRICE MAUREL, TITLE DESIGNER
Outstanding Achievement for a Casting Director For A Drama Series MARK TESCHNER, CASTING DIRECTOR Info provided by:
Debbie Morris
ghpcfanclub@aol.com
www.ghfanclub.com

We thank you for the

hits we have received here!

Photos by Joann Baker. All material Special thanks to Debby O' Connor and Debbie Morris for planing the events. And to Mr. Rick Hearst and family for their unbelievable assiatance & kindness!!! Copyright 2001-04 by John H. Baker, unless otherwise indicated.