Just a couple of event photos:
Rick and his lovely wife, Donna
entertain the crowd
...with Drew Cheetwood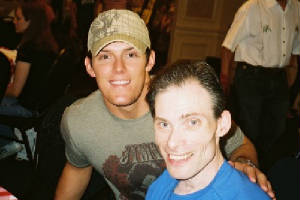 GH's "Milo"
Photos by Joann Baker. All material

BY JHBONLINE.NET Unless otherwise indicated. Special thanks to Debby O' Connor and Debbie Morris for planning the events. And to Mr. Rick Hearst and family for their unbelievable assistance & kindness!!! NOTE:This site is wholly unofficial...Events are run by other entities and listed as a courtesy to RICK ONLY!