Via twitter @DerkCheetwood: May 4, 2010:

Derk Cheetwood (Max, GH): Oh and By the way I just wanted all of our fan's to know that Cari & I found out we are having another little Girl. We are very excited!

*************************

Nice Mention @

http://abc.soapsindepth.com

Off The Market!

Cheetwood is taking a bride.

Sorry, ladies, but GENERAL HOSPITAL's Drew Cheetwood (Milo) is officially spoken for: Soaps In Depth has learned that the actor and his long-time girlfriend, Jenna Vitale, are engaged to be married! Congratulations to the happy couple!

May we second that!

Carolyn Hennesy -"Diane"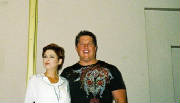 Derk Cheetwood - "Max"
July 17-19, 2009
Airtel Hotel & Plaza: Van Nuys, CA
Lexi Ainsworth-- "Kristina"
Drew Garrett- "Michael"
Lisa Lo Ciero-- "Olivia"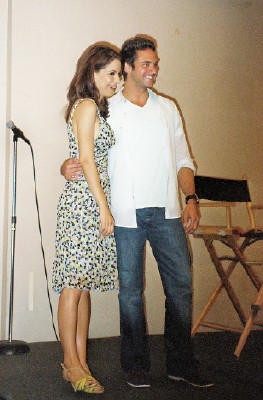 Brandon Barash-- "Johnny"
Main events hosted by GH fan club-- Debbie Morris, Pres.
Additional events by: Your Number One Fan

Debby O' Connor , Pres.
everyone!

Here we go into the fantastic holiday season! We've got lots of fantastic autographed gifts for you to purchase for your friends, your family and yes, yourself, during this great time of year! After all, who deserves it more than the people we love ... and we should include ourselves in that group as well!

Log on now to

www.YourNumberOneFan.com

, click on the Merchandise link to purchase Brandon Barash's book of photography, Trevor St. John's "Art of Getting Over It" DVD, as well as Carolyn's Hennesy's Pandora series of books. All of these will be autographed to you or your loved one, autographed, then shipped to you in time for the holiday season if orders are received by the end of November. After that, express shipping can be arranged for a nominal fee. The one exception if the fourth book, "Pandora Gets Heart," which isn't ready to ship yet. But we can send a gift card to let the recipient know that it is coming, and it will be signed and personalized to them by Carolyn.

Fan club memberships are also a great gifts. If we are unable to get the kit out in time for the holiday, we will get a gift card out to the recipient to let them know that the membership kit will be on it's way as soon as we can get the welcome letter and kit photo signed and personalized by the actor of your choice. Everything that goes out from the fan club, i.e. holiday card, birthday card, welcome materials, are signed by the actor, so it does sometime take a little longer than we'd like. But a personalized item is worth the wait! And memberships do not begin until the kit goes out, so no time is lost.

Tickets for the General Hospital fan club weekend go on sale tomorrow morning, and they are wonderful gifts, for holidays, birthdays, or simply to celebrate a friendship that deserves a Getaway Road Trip ... even if you live in LA!

If you have any questions, don't hesitate to contact me directly and I'll be happy to help you in any way I can.

Happy Holidays!

Debby O
THE MAIN EVENT
Rebecca Herbst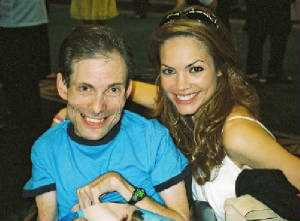 "Elizabeth Webber"
Lisa Lo Ciero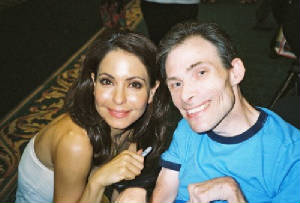 "Olivia Falconeri"
With Brandon Barash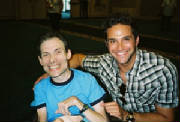 aka "Johnny Zacharra"
Carolyn Hennesy/Derk Cheetwood event
Carolyn Hennesy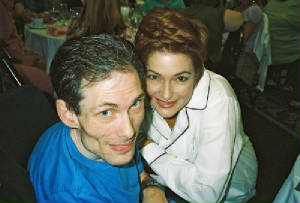 "Diane Miller"
Derk Cheetwood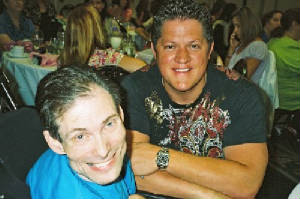 "Max Giambetti"
Drew Cheetwood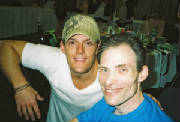 "Milo Giambetti"
Drew Garrett/Lexi Ainsworth Event
with Lexi Ainsworth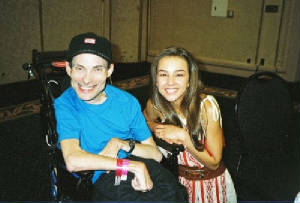 "KRISTINA"
...and the new Michael Corinthos,
Drew Garrett
Brandon Barash Event
with special guest,
Lisa Lo Ciero
Brandon Barash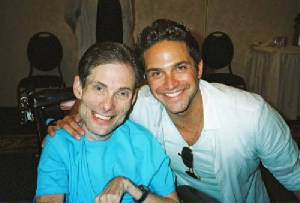 GH's "Johnny Zacchara"
...and once again with the lovely...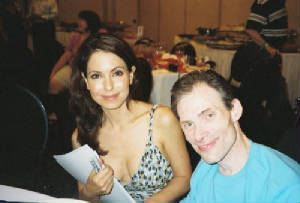 Lisa Lo Ciero ("Olivia Falconeri")
A great time for everyone -- Special thanks to Debby O' Connor & staff; Debbie Morris, the Herbst family, and all my GH friends!
GH Weekend 2010 Schedule
A Few changes have been made! Enjoy your evening.

There is a little confusion about where the GHFC Weekend is held apparently!
Let's clear that up quickly.

All events that are associated with the Official GH Fan Club Weekend, i.e. those recognized and promoted by the club, will be held at the following location:

AirTel Plaza Hotel & Convention Center
7277 Valjean Avenue
Van Nuys, CA 91406
818-997-7676

As a reminder, rooms for the GHFCW go on sale Monday morning at 9:00 a.m. PCT. These rooms are known to go very fast, so please put a reminder around your little pinky if you want to be where all the action will be!

I have pulled a list together of events that have taken time slots. Many of them will have TBA beside them because slots are just being held. Tickets to quit a few events will not go sale until after the first of the year, so check the site frequently, I will update when I am made aware of the information. No need to waste any of our time by sending an email. When it is confirmed, it will be posted. Thanks in advance for your patience.

Thursday, July 22, 2010
7:30 pm – 11:30 pm Official GHFC Kick Off Cocktail Party (ON SALE November 3rd)
Contact Debbie Morris @ghpcfanclub@aol.com

Friday, July 23, 2010
9am-noon –Lisa LoCicero
Contact Sheri @ LoCiceroFanClub@aol.com

1pm-4pm – Ingo Rademacher
Contact Debbie Morris @ ghpcfanclub@aol.com

4pm-6pm – Jonathan Jackson
Contact TBA

6:30pm-8:30 – Laura Wright
Contact TBA

9pm – midnight – Bradford Anderson
Contact debbyoconnor@aol.com


Saturday July 24, 2010
8:30am-4 pm Official General Hospital MAIN Event (ON SALE November 3rd)
Contact Debbie Morris @ghpcfanclub@aol.com

4pm-6pm Steve Burton
Contact TBA

6:30pm-8:30pm Maurice Benard
Contact TBA

8:58pm-11pm Drew Garrett
Contact TBA

9pm-midnight Brandon Barash
Contact debbyoconnor@aol.com


Sunday July 25, 2010
8-11 AM Sebastian Roche`
Contact debbyoconnor@aol.com

10am-1pm Scrubs Event
Contact Debbie Morris @ ghpcfanclub@aol.com

10am-1pm Leslie Charleson
Contact ChrissyMQ@aol.com

1pm-4pm Derk Cheetwood and Carolyn Hennesy
Contact debbyoconnor@aol.com

1pm-4pm Tyler Christopher
Contact Sheri @ Team@aol.com

6pm-9pm Julie Marie Berman and Dominic Zamprogna
Contact debbyoconnor@aol.com

9pm-midnight GNO hosted by the Mink Chicks
Contact: Trisha @ trgnurse@msn.com


Ok these are the ones I am aware of. Please remember until each event goes on sale it is not written in stone. This is to kind of give you an idea of how you might want to plan your trip. Every coordinator has their own way of putting tickets on sale. So the minute I am notified I will post the information and send out a fan club email blast.

Everyone will know at the same time and also check the site frequently after the first of the year.

Thanks everyone, hope you had a fun & safe Halloween.

Debbie Morris
President
ghpcfanclub@aol.com
www.twitter.com/demo530
ghfanclub.com