Ximena Navarrete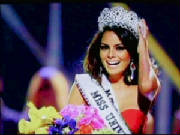 Miss Universe 2010
Of course, the end came, but it turned out to be more of an intermission!
At the end of Miss USA, it was announced that the 2010 Miss Universe Pageant would be held at Mandalay Bay Las Vegas! Thus, we pageant-types were re-convene in the desert in August.... The arrival of contestants representing more than 80 countries around the world made the sizzling Nevada sand even hotter!
Ximena Navarette claimed the crown for Mexico in a lavish event where Mom & I enjoyed visiting with old friends such as Miss Universe Organization President, Paula Shugart; Vice President, Rachel Frimer and amazing MUO staff members such as Esther Swan, Roston Ogata, Colin Hornett, Tom Lew and others. We were also thrilled to meet a new member of the MUO family, Kamie Crawford, Miss Teen-USA 2010, who has since become a dear friend!
We truly enjoyed the entire event -- especially the enthusiasm of foreign pageant fans, particularly those of Mexico and the Philliipines, who truly added to the glamour and energy of the pageant!


In September, we made our way to Medford, Oregon to celebrate the wedding of Tami Farrell & Buddy Wyrick. Mom and I met Tami soon after she was crowned Miss Teen-USA 2003 and were so proud to support her as she graciously became Miss California-USA 2009! We know great things lay ahead for Tami & Buddy, both personally and professionally. It was an honor to be included among their wonderful families and warm friends as they exchanges vows.
We were surprised to find Los Angeles Mayor, Antonio Villaraigosa and former Miss USA, Lu Parker, charmingly sharing our flight back to LA!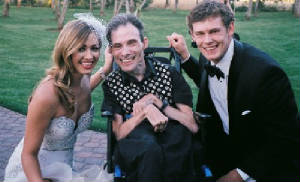 With Tami & Buddy
The annual General Hospital Fan Weekend was another event we enjoyed last Summer! The Carolyn Hennesy/ Derk Cheetwood ("Diane" & "Max") luncheon and the Brandon Barash ("Johnny Zacchara") gathering were awesome! Debby and John O' Connor of

http://yournumberonefan.com

were amazing hosts once again!
The "GH" Gang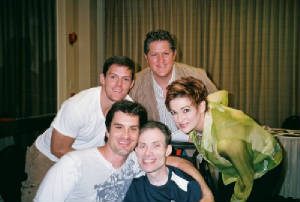 Rick and me!
I was so happy that Rick Hearst (aka Rick Herbst) could stop by Carolyn & Derk's event even though he now plays "Whip Jones" on "The Bold & The Beautiful!" It's always a treat to see him! I am lucky though as the Herbst family invites Mom & I to attend various plays and charity events in which their family is involved. A highlight for me was seeing Rick and his sons, Nick and Cameron perform in "Grease!," choreographed by Rick wife, Donna! What a talented family!
Rick and his boys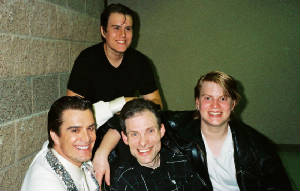 in "Grease"
What will 2011 bring? Who knows! Mom & I plan to attend Miss America 2011 (90th Anniversary Event) to be telecast live on ABC-TV on January 15! We also look forward to reuniting with old skating buddies when the 25th AnniversaryStars on Ice tour (

http://starsonice.com

) moves through Southern California in February!... and we can wait to cheer on our dear friend Sarah Chapman, Miss Nevada-USA 2011 at the Miss USA pageant's 60th Anniversary edition in the Spring as it is broadcast live on NBC!
Sarah Chapman

Miss Nevada-USA 2011
Miss NV-USA 2011
Sarah Chapman
We wish you all a year filled with love, fun & excitement!
Happy Holidays,
The Bakers
John, Joann & Shandi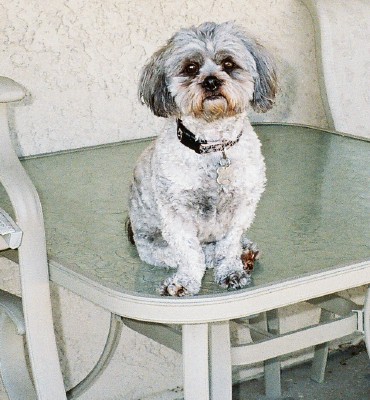 Our Shandi