Let the fun begin!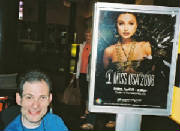 MISS USA 2008
FROM PLANET HOLLYWOOD RESORT IN LAS VEGAS

TELECAST FRIDAY APRIL 11 on NBC Starring DONNY & MARIE OSMOND
CONGRATS TO CHRYSTLE STEWART OF TEXAS, MISS USA 2008. GOOD LUCK @ MISS UNIVERSE LIVE FROM VIETNAM SUNDAY, JULY 13 ON NBC!
IT WAS AWESOME--2 GREAT PARTIES; A WONDERFUL EVENT & MY PHOTO WITH RACHEL SMITH (MISS USA 2007) TAKEN AT MISS TEEN USA EVEN ENDED UP IN THE PROGRAM BOOK WITH RACHEL'S MEMORIES...SO SWEET!!!!!!!!!
(similar to the one found @
Results:
Miss USA 2008: Crystle Stewart (TX)
First runner-up: Leah Laviano (MS)
Second runner-up: Tiffany Andrade (NJ)
Third runner-up: Lindsey Jo Harrington (OK)
Fourth runner-up: LauRen Merola (PA)
Top 10 Finalists (In order of placement): Candice Crawford (MO), Brittany Mason (IN), Jessica Rafalowski (FL), Hailey Brown (TN), Jackie Bruno (MA)
Top 15 Semifinalists (In order of placement): Jamie Hill (SC), Raquel Beezley (CA), Julia Bachison (UT), Amy Diaz (RI), Kaylee Unverzagt (MN)
Awards
Miss Congeniality: Monica Day (OH)
Miss Photogenic: Courtney Carroll (AK)
Planet Hollywood Resort & Casino
Las Vegas, Nevada
April 11, 2008
The Crowning Moment:
Chyrstle Stewart of Texas becomes Miss USA 2008!
from youtube.com