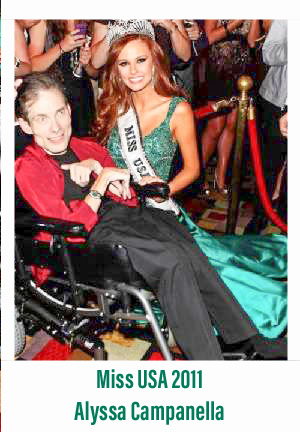 PLANET HOLLYWOOD
LAS VEGAS, NV
JUNE 2011
MISS USA 2011 ALYSSA CAMPANELLA MARRIES "REIGN" TORRANCE COOMBS! CONGRATS MY FRIENDS!



Miss USA 2011 Alyssa Campanella & "Reign" CW Star Torrance Coombs in Saks Canada campaign



Thanks Dear Alyssa for inclulding me in your Official Farewell i Love You :) John
One year ago today (June 19, 2011) Alyssa Campanella is crowned Miss USA and I go crazy, and hyperventilate... I was so honored to witness that amazing moment along with Anne-Marie Campanella, John Campanella, Jason Smith. Travis Stanton, Shanna Moakler, Torrance Coombs, Meagan Tandy, Raquel Beezley and everyone else! It was amazing to share that night and the time since with you all! Love you, Alyssa!

John Baker (@jhbonline)
6/19/12 6:02 PM
One year ago today @AlyssCampanella was crowned #MissUSA 2011! An incredible memory
Thanks Alyssa! & #teamalyssa pic.twitter.com/zdwPvBIe


Alyssa Campanella, THANKS FOR ALL YOU'VE DONE FOR ME, THE USA, & THE MUO! LOVE YOU, JOHN ;)
Alyssa's final shoot with Fadil Barisha
Alyssa from TEEN To Miss on youtube! Not my video! from Ms Teen USA 2007 to MISS USA 2011(tribute to alyssa campanella ms u...:

http://youtu.be/L4Kl35vcpGw

via @youtube
ALYSSA CAMPANELLA
MISS USA 2011
MARCH 21, 2012:@AlyssCampanella @MissUSA Happy Birthday to an AMAZING FRIEND! I LOVE YOU! So grateful you're in my life XOXO <3 :)!!!!!!!! Thanks for sharing this inredible year...and your amazing life and spirit with me! XO, @, John Baker, JHBonline.net My Mom, Joann, says HAPPY BIRTHDAY TOO!